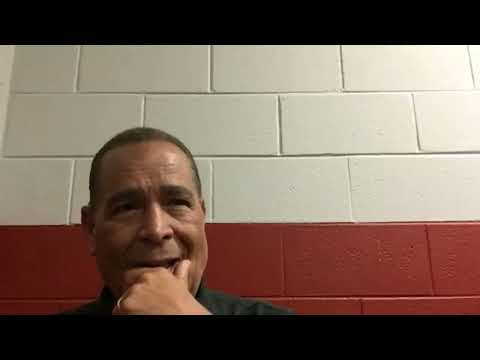 Courtesy of @HRReview
No doubt Fabian was a warrior yesterday…along with being the leader we so desperately need going forth.
Sampson says that this team, without Edwards, is a poor shooting team and I tend to agree…but the sudden emergence of Walker and the return of Kyler are huge factors.
That trey Walker hit late to stop their momentum was simply cold blooded. The kid has the touch and skills to be very good here.
I cannot think of many better pure shooters to come through the doors here with any better potential than young Walker. You can bet he will be putting up more than six trey attempts in the near future.
No doubt he missed some early inside shots but that will be adjusted…and besides he was not the only one in the lineup missing point blank shots.
It will be interesting who comes off the bench once Edwards comes back. I really don't think it matters because both Walker and Taze have solid games.
Will be interesting to see how often Fabian plays with two other bigs on the court going forward
Am I right that so far all of Walkers three's have come from the corner?
I am thinking that is correct…but in high school he could shoot them from just about anywhere…but I think right now he mainly stays stationed in one of the corners…
Very proud of these guys…playing this game without three of your top four players to start the season, and seeing the other guys step up was great…we are so lucky to have CKS and his staff. The experience some of the younger guys will be getting going forward this year is invaluable.
I can definitely say this…next season UH should be one of the preseason picks to win it all…they will be loaded.
He hit one from the left wing in the second half.
Though we certainly didn't want these injuries that have changed our outlook a little, it will be fun to watch a great coach like Sampson integrate different players and grow this team into a cohesive unit. Players who weren't expected to contribute as much will be asked to step up, and will gain valuable experience in pressure cooker game situations. This is the team we have, and we may as well enjoy the ride, because who knows where it will take us. Go Coogs!
Not to diminish Fabian in any way, but if you watch Josh Carlton, you will see a man who is a warrior, also. I enjoy watching the ball, but often just watch down low to see where the battles really happen . . . . .
If Sasser returns you might be right
15 points, 14 rebounds, 2 blocked shots tells me Fabian was the man yesterday. No slight on anybody else. Plenty of room for more than one warrior