http://www.uhcougars.com/sports/w-tennis/recaps/012118aaa.html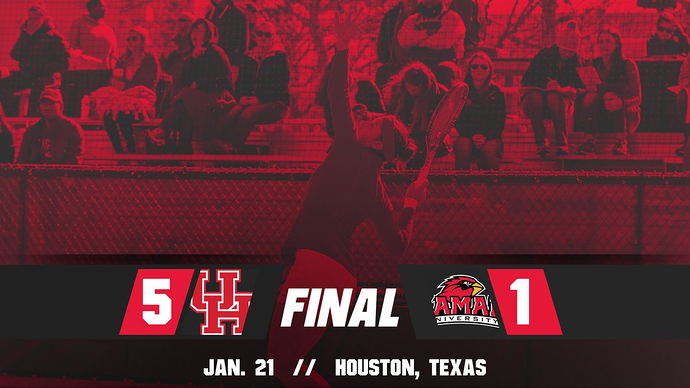 The Houston Cougar Women's Tennis team opened the 2018 Spring Season with a 5-1 victory over Lamar on Sunday, at the Life Time Fitness in the Galleria Mall. The match was moved indoors due to inclement weather in the Houston area.
With the change in venues, the Cougars and Cardinals also switched up the order of play, beginning with singles instead of doubles. Houston picked up its first point of the season, after sophomore Lauren Alter claimed the first set against Amelie Vossgaetter 6-0. Vossgaetter was then forced to retire due to injury in the second set with Alter leading 1-0.
Senior Sveva Mazzari rolled through Sanja Jolic in straight sets at the No. 2 singles position to extend Houston's lead to 2-0 on the afternoon. Mazzari claimed the first set 6-1 before returning to post the same score in the second set and seal the match.
The Cougars pushed the score to 3-0 with a victory at the No. 4 position from senior transfer Alison Mills. In her first match with the Cougars, Mills jumped ahead early, taking set one 6-0 over Di Guilio. Di Giulio would make Mills work in the second set, but the Cougar would outlast and win 6-4.
Houston clinched the match, thanks to a tremendous come-from-behind effort from sophomore Tsveta Dimitrova. The 2017 American Athletic Conference Co-Freshman of the Year dropped the first set 6-2, before responding to even the match with a 6-2 victory of her own in the second set. Dimitrova rode the momentum into the decisive set, and broke Jasmin Buchta's serve in the final game, to win 2-6, 6-2, 6-3 and clinch the overall match for Houston.
With the match in hand, the Cougars picked up their fifth point of the afternoon in a straight-set victory from sophomore Constandena Nicolaou. Nicolaou won each set 6-2, 6-2 to bring the score to 5-0 Houston.
Lamar picked up its only point of the afternoon in a super-tiebreaker at the No. 6 singles position. Milena Belianovich took the first set 6-4 from senior Ana Glumac, before Glumac battled back to even the match with a 6-2 victory of her own. In the super-tiebreaker, the action went back-and-forth, but Belianovich came away victorious, 10-7.
UP NEXT FOR HOUSTON
Houston continues its season-opening, 6-match homestand when it welcomes Texas A&M-Corpus Christi to Winston Tennis Facility, on Friday, Jan. 26. First serve against the Islanders is scheduled for 1 p.m.
Following the match with TAMUCC, Houston will host Sam Houston State and Incarnate Word in double-header action on Sunday, Jan. 28. First serve against the Bearkats is set for 11 a.m., while the match with the Cardinals begins at 3 p.m.