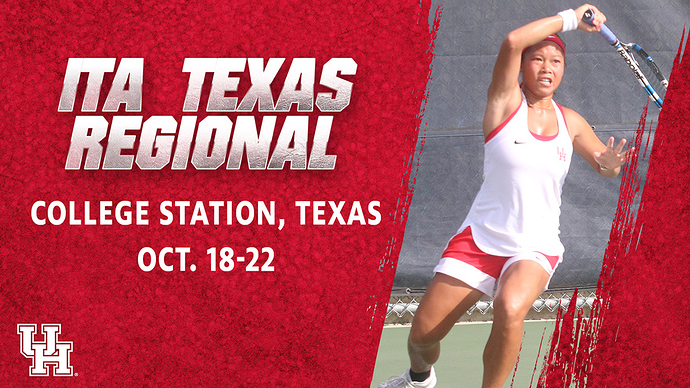 Three Houston Cougar Women's Tennis student-athletes continued impressive runs, before ultimately bowing out on the second day of the ITA Texas Regional, on Friday in College Station.
Action on the second day began with doubles, where Phonexay Chitdara and Sophie Gerits drew Claudia Andrea Islas Median and Constanza Aranguiz of Prairie View A&M. Houston's duo wasted little time in the match, dropping just one game en route to cruising to a 6-1 victory to advance to the Regional Quarterfinals.
In the Round of Eight, the duo drew a familiar opponent in Linda Huang and Michaela Haet from Rice. Matched up against their crosstown rivals, the Cougar duo fell 6-3, but compiled a 2-1 record on the weekend and now own a team-leading five wins in doubles play.
Ndindi Ndunda was Houston's lone singles player on the second day. After winning each of her Round of 128 and Round of 64 matches in tiebreakers on Friday, Ndunda drew the No. 3 seed in the tournament, Denise-Antonela Stoica, where she again would need a tiebreaker to decide the match. After Ndunda claimed the first set 6-2, Stoica rallied to win 7-6 and even the score. Ndunda would respond however in the tiebreaker, claiming the overall match 6-2, 6-7, 1-0 (8).
Ndunda advanced to meet the No. 14 seed Katie Poluta in the Round of 16, where she fell in straight sets 6-2, 6-1. Ndunda finished with a 3-1 record on the weekend and moves to a team-leading 6-3 overall in fall play.