No joke… This man was assigned by ESPN as the analyst for the TT/UH game: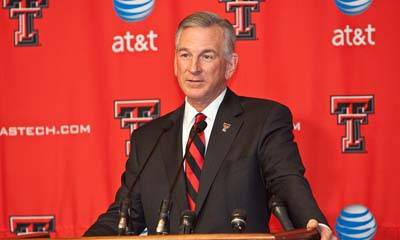 ROTFLMAO
The twitter responses are priceless.
Fill us in on why this is funny.
Are you serious?!? Tommy Tubberville coached TT, sucked, set them back years, then when hosting a recruiting dinner with recruits at a local restaurant, excused himself, left, never came back, and took the job in Cincy. Didn't pay the check.
That's why that is hilarious.
Yes… yes he is. That's why tech fans are freaking out. They are taking it as a personal insult from ESPN.
Well if you haven't been to Lubbock…he's not wrong.
Tubs is an asshole, but I'm guessing he's doing this broadcast because he has history with both teams.
In the 2015 Cincy-Houston game, he 1) laughed at and mocked our getting hyped on the sideline, 2) got a penalty for arguing too much on a call which cost them points, and 3) later claimed they were a better team and that the refs basically won it for us.
He was able to get Auburn one undefeated season and since then has tore down three different football programs (including Auburn) that were in better shape prior to his arrival than they were when he left. Each time, the fans at those schools were completely fed up with him.
Texas Tech is the only P5 school I can think of that has lost their head coaches in basketball and football to G5 [er, P6?] schools. I have never been to Lubbock but once heard you could stand a tin can and see Albuquerque so I am in no hurry to get there.
I bet Tommy's wife won't be making the trip. She was driving a car that was in a wreck with an elderly couple. The elderly man died later but the police seemed to sweep it under the rug. Wasn't long before Tommy left for Cincy.
Lubbock is so flat that it makes Houston look like the hill country…
There's good reason for the writing & success of the song "Happiness is Lubbock Texas in my Rear-view Mirror"
I understand Lubbock is not a pleasant place to stay but I hope no one is defending how TommyBoy left.
at least he didn't leave his courtesy car at the airport and call the office to let them know where they could pick it up
I'm lost on the poetic part? At the very worst you can say that the way Tommy left was a payback for the way Mike Leach was treated. I don't see anything being poetic about letting Tommy continue to haunt Texas Tech's program.
There is a town just west of Lubbock called Levelland. It is, very.
Spent a couple weeks in Lubbock about 20 years ago on business. It is very flat. Wind blows constantly. Saw a large tumbleweed tumbling down the street in the middle of town. Kept waiting for a gun fight to break out but didn't happen. Took trip in 2010 for one of my son's college visit days. TTU is a nice campus. Yes, its flat, sprawls but I and he liked the way the builds are of the same architectural style. People were friendly maybe because I always make it a point to be friendly. Only place that doesn't seem to work is the Northeast. Don't know what's wrong with those folks.
I was initially thinking he would be biased toward TTU because of his attitude toward UH after the 2015 loss. Not so sure now. Maybe he will be totally objective or maybe he'll be down on both teams. I'll be at the game so I don't care what he says but the TV audience might be influenced if they aren't already clued as to his history with both schools.
This just shows how espitty think of both programs. Someone in a cubicle saw his resume and choose to "slot" him for the broadcast. Having a #$%bag with history with both Teams does not make you and immediate choice. Andre would have been a much better choice. He as a QB and especially a Run and Shoot one would have been ideal. Andre is very fair when he comments on U of H. Would ttl have complained? Sure but you look at what is being imposed on us this would have been a solid choice.
Maybe we can get Tubbs teamed up with that Robert Lee guy.