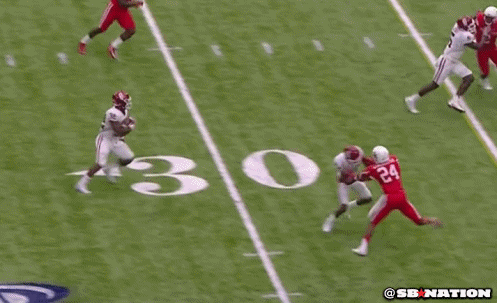 All my mid west Facebook friends were talking about an Oklahoma earthquake and I'm just like "do you mean this?"
I think 11 was glad it wasn't him getting hit.
I'm hearing Rick Ross.
Everyday, everyday, everyday I'm hustlin.
Safe to say this defense lays the wood. The new jack boyz will jack you up.
Almost broke his back he hit so hard…
That hit is symbolic of UH and the theory that only power five teams are good enough to be a College Playoff team.
I would love to see the hit… Think it was Garrett Davis on the Baker Mayfield scramble on 4th down, where he fumbled and Mixon or perine picked it up and took off to the opposite field.
I remember thinking "Oh No", and then Davis trucked him in the open field.
Reminescent of the open field tackle on Cook on the reverse in the Peach.
This team is so fundamentally sound.
When did that mayfield fumble happen? I was at the opposite end of the field and when watching the replay the next day I kinda fast forwarded a lot.
4th quarter. it was like 4th and 33. Probably last 10 minutes or so. It was the best hit of the game IMO.
Looked it up. 5:45 left in the 4th. And it was Howard Wilson.
OMGoodness! It took me a sec, but once I got it!