http://www.uhcougars.com/sports/w-swim/spec-rel/022818aaa.html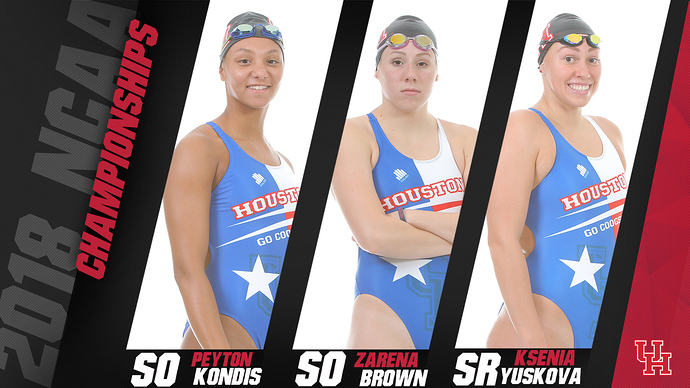 The NCAA Division I Men and Women's Swimming and Diving Committee announced the swimmers who have qualified for the 2018 Swimming & Diving Championships tabbing three University of Houston swimmers. The Championships will be held March 14-17 at the McCorkle Aquatic Pavilion in Columbus, Ohio.
"We are excited for these three to have the opportunity to represent the University of Houston at the NCAA Championships and fight to put points on the board," said Head Coach Ryan Wochomurka. "It is another upward step for the trajectory of our program."
Fresh off of its second consecutive American Athletic Conference Championship and for the first time since the 2009 season, Houston will send three swimmers to the NCAA Championships. Zarena Brown, Peyton Kondis and Ksenia Yuskova will represent Houston in two events at the Championships. Yuskova and Brown will compete in the 200y Freestyle after posting the 42nd and 43rd best times in the NCAA ranks this season in the event at the Phill Hansel Invitational earlier this season. Kondis will compete in the 100y Breaststroke after shattering the program record in the event at the 2018 Conference Championships, clocking in at under a minute for the 27th best time in the NCAA ranks this season.
This is the first time under Wochomurka that Houston has qualified for the Championships and the first time since the Cougars sent former swimmer Sasha Schwendenwein to the NCAA's in three events at the end of the 2009 season. Houston leads all non-Power 5 schools in qualifiers with three, followed by SMU with two.
WHERE TO WATCH
The finals of each session of the 2018 NCAA Swimming & Diving Championships will be broadcasted live on ESPNU/ESPN3 starting Friday, March 16. All sessions not broadcasted by an ESPN entity will be streamed live HERE.