Tyus Bowser Invited to Senior Bowl
Game to be held Jan. 28 in Mobile, Ala.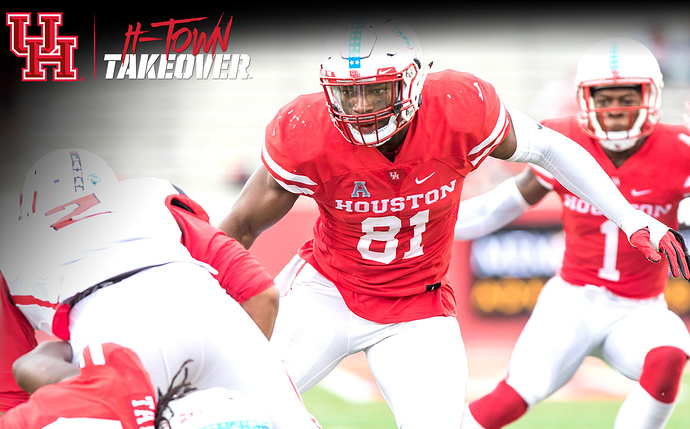 http://www.uhcougars.com/sports/m-footbl/spec-rel/011017aab.html
.
http://www.cbssports.com/nfl/draft/news/2017-senior-bowl-10-things-to-know-about-the-weigh-ins-for-nfl-draft-hopefuls/
Sporting a Mr. Universe-type build does not necessarily equate to being a top NFL draft pick but it does speak to a player's work ethic. Among the more physically imposing players on the South's roster were Houston outside linebacker Tyus Bowser (6-2 1/2 and 244 pounds), Villanova defensive end Tanoh Kpassagnon (a shade under 6-7, 280 pounds) and Kansas State defensive end Jordan Willis (6-3 3/4 and 255 pounds), each of whom looked like they might pay rent at their team's weight rooms.
I heard Lance Z say this morning that he had heard from 3 NFL teams that they have a 3rd round grade on him. That surprises me a bit, but athletic pass rushers are a need for everyone.
A 3rd round draft would get him a 4-yr $3M contract with a small signing bonus. Not bad. Good luck to him!
Bowser is solid and can be used to rush the passer or set the edge. LBs that are that diverse are hard to find. He's also a weight-room mainstay and works hard.
If only he hadn't been on the receiving end of Adams' fist…
That doesn't really surprise me - I'm sure NFL guys see the obvious pass-rush skills, but there's also the ability to drop back into coverage, when needed. He was generally the most disruptive force on defense when Oliver wasn't.
http://www.houstontexans.com/news/article-2/Houston-OLB-Bowser-showing-skills-at-Senior-Bowl/f773c8b5-a5b0-47ab-b4d5-f7268b9e5130
"One of the first things that stands out as it pertains to Bowser is his build. I'm not sure there's an ounce of body fat on him. He's sculpted at 6-3, 244 pounds and has shown he can be a versatile piece in any defense. He's covered tight ends one play, then rushed the quarterback the next. He has the strength and length to be a solid pass rusher in the future. He probably needs to add five to ten pounds, at a minimum to hold up consistently on the edge against the run. NFL scouts really like him and don't see him lasting long on draft weekend."
There are a lot of people that don't realize how much having him out hurt us this year and how hard he will be to replace.
I finally got a chance to watch some highlights from our DL/DE crop. It's obviously a small sample size, and against high school OL, but Bryan Jones looks like he could immediately step in and replace Bowser. He is super quick off the line and can run down RBs. If he has any ability to set the edge…look out! I'm excited to see what this kid can do at the next level, especially on the same line as Big Ed who absorbs multiple blockers so well.
Applewhite sounds like he thinks Anenih (sp?) is in the mold of a Bowser. Sounds like he is pretty dang fast.
Sad part is that the Texans miss out on so much talent in their own back yard