UH Chemist Honored for Research, STEM Education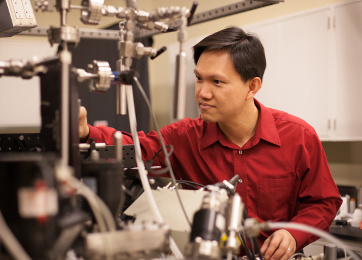 Ding-Shyue (Jerry) Yang, assistant professor of chemistry at the University of Houston, is seeking to change that with his work involving the movement of energy and charge across the interface of different materials. To further his research, he has been awarded a CAREER grant from the National Science Foundation (NSF).
NSF CAREER grants are competitive awards to junior faculty who exemplify the role of teacher-scholars through their research and teaching. The five-year, $570,332 grant will fund Yang's research, as well as provide support for his work with the Chemistry Olympiad and other outreach to high school students.