Nice mid-week game and four in a row!
Do we get pretty good attendance for our games? I doubt Lamar has more than 20 fans at the game. I attended the Missou at LSU game on Saturday night and I didn't hear any Missou Tiger fans despite being about 20 rows behind their dugout. You have to have a strong local base of support and the closest pro team from Baton Rouge is Houston.
UH still gets lousy attendance at the games. Fan support simply is extremely low.
Sorry guys; internet problems and being under the weather kept me from updating last night.
Nice win for the good guys. Need to keep winning these winnable games before conference starts this weekend
http://www.uhcougars.com/sports/m-basebl/recaps/032018aaa.html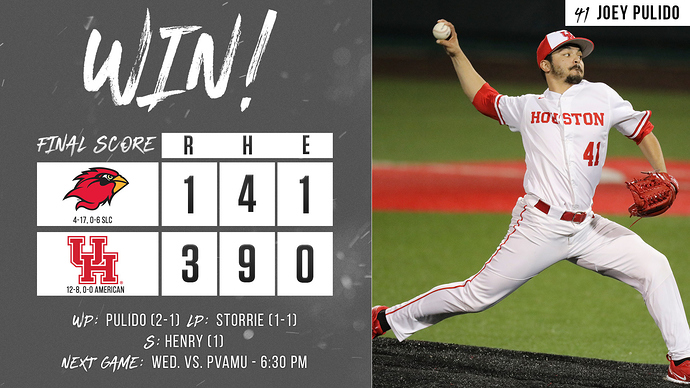 HOUSTON HITS
Jared Triolo has reached base in 19 straight games.
Joe Davis has reached in 17 straight games.
Houston improves to 10-3 at home with the win.
Carter Henry picked up his first save of his career in his 10th relief appearance this season.
Houston pitching notched its sixth straight game with at least seven strikeouts.
TOP OFFENSIVE PLAYERS
Joe Davis | 1x4, R, RBI
Lael Lockhart Jr. | 1x3, RBI, 3B
Connor Hollis | 1x3, RBI, SAC
Jared Triolo | 2x4
Grayson Padgett | 2x4, R
Ron Brown | 1x3
Cooper Coldiron | 1x3
Joe Davis, Lael Lockhart Jr. and Connor Hollis each had a hit and RBI, while Grayson Padgett, Davis and Landon Etzel each scored a run. Jared Triolo joined Padgett with a multi-hit game.
PITCHING BREAKDOWN
Brayson Hurdsman | 6.1 IP, 3 H, 1 R, 0 BB, 3 K
[W] Joey Pulido | 1.2 IP, 1 H, 0 R, 1 BB, 5 K
[S] Carter Henry | 1.0 IP, 0 H, 0 R, 0 BB, 0 K
Starter Brayson Hurdsman had career-outing, tossing a career-ling 6.1 innings in his second start of the year. He allowed just one run on three hits with three strikeouts before handing it over to senior reliever Joey Pulido in the seventh.
Pulido worked 1.2 shutout innings, surrendering just one hit and one walk with five strikeouts for the win, improving to 2-1 on the season.
Sophomore reliever Carter Henry made his 10th appearance of the season and earned his first career save with a shutout inning of work to close out the 3-1 victory.