Lamar Jackson leads by a bunch at this point.
Vote daily.
I can't find Gary Ward on the list…
Ward moves back into second place, but not by much.
I way overshot 4:00, job done, and yes, the fact that I could do that, makes me think the fan vote is BS.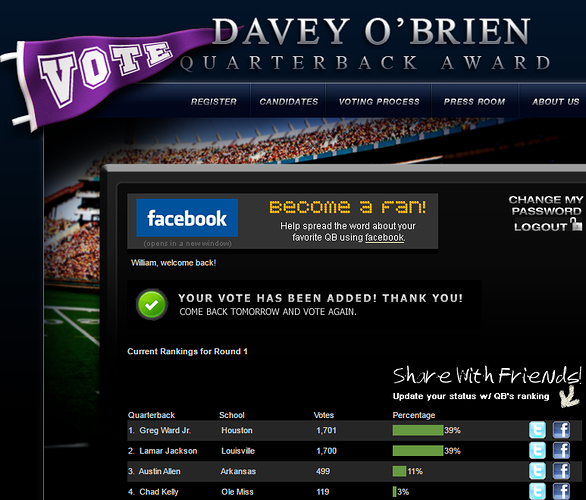 Lamar Jackson is an incredible athlete and a really good QB–no doubt. But I'm a little shocked at the drooling people are doing over him right now. His team has played FCS Charlotte and a terrible Syracuse team. If he goes out and does to FSU tomorrow what he has done to Charlotte and Syracuse, then let's talk.
I wish there was a super like button for this comment!

Mods can we pin this link/thread?
GWIII is in the mix. Keep voting Coogs!
I stand by most post from before, in the mix is silly, I can single handedly bump him to first in 5 min, will do it now.
Done again. Way less than 5 min, way less ground to make up than 3 days ago. What the hell, put him clear of Lamar by 50 votes.
bump
Keep voting for Greg!
Ok, I will move him up to the front again.
done, 250+ votes clear of LJ
Louisville has a 'bot' working the vote.
Not necessarily, you can vote as many times as you want, and by putting a bookmark with the address I posted above in it, you can literally tally over a 100 votes a minute.