This would give UH a billion dollars.
Prop 5.
An additional $1.3 billion, which would put us in the Top 25 among PUBLIC universities nationally for endowment.
Maybe pin this to the top till the election is over so none of forget to vote.
Yes and we 100% DESERVE our PUF share.
Prop 5 has to make it clear it won't stop us from getting the PUF share.
ut located at Austin is where they are because of the PUF. This is precisely why they do not want us to get the PUF.
We get into PUF money?
We will be just as big a university in a number of years.
$1.5B is great but it should never be the "end" game.
Does that matter?
Hint: not for this vote.
Irrelevant consideration.
Early voting is 10/23/23 to 11/3/23.
I plan to avoid the lines election day and vote this week. Here is a link to the voting centers.
Will the restrooms get an air conditioner?
My wife and I voted today. Get out and vote "For" Proposition 5.
Only if they fire the DA before 6PM
…sorry, had to say that
Maybe it would indirectly
What else is buried in that bill? These are never stand alone kind of things.
This is not a legislative bill that has so much pork in it you could open a BBQ joint. This is Proposition 5, which will amend the Texas State Constitution. Here is what you will see on the voting booth. This is a no-brainer if you support UH and other state-supported universities.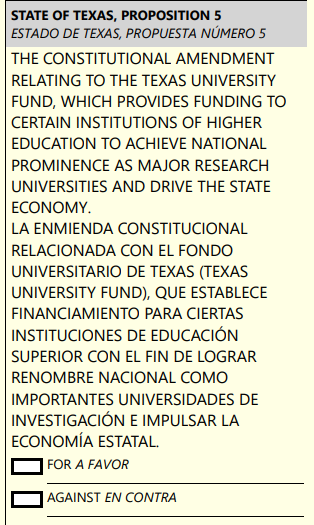 Sounds good to me. What's the likelihood of this passing?
Only requires a majority vote.
Already passed both Houses by a wide margin (more than the 2/3 required; STRONG bi-partisan support).
State Constitutional amendments.
Over $1 billion for UH is at stake on Proposition 5.
Everyone here had better get out and vote yes…because if they don't…then I openly call their status as true blue Coogs into question.
Don't question it.
JUST DO IT!!!
University of Texas and Texas A&M have been benefitting from a state fund like this for decades ($billions upon $billions) and they flaunt it.
If you want to see UH have the same opportunities to become a top tier state university equal to them, then you need to go vote for this. We've been waiting for decades to have this opportunity.