UH Women golf team was selected to play in the Austin Regional.
Go Coogs!!
http://www.uhcougars.com/sports/w-golf/spec-rel/042518aaa.html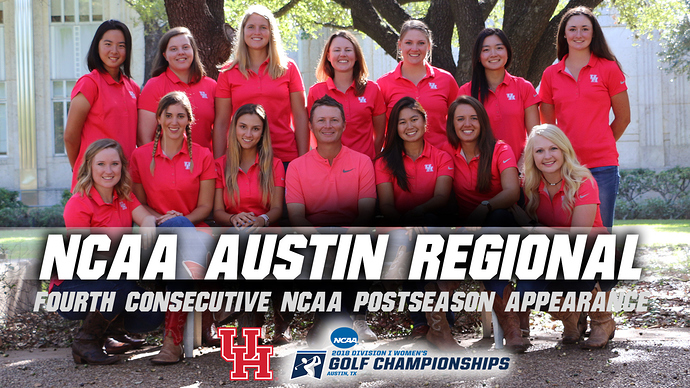 In addition, the Cougars are one of only 28 teams to qualify for NCAA Regional play in each of the last four years. Houston earned its ticket to NCAA Regional play after winning the American Athletic Conference Championships title by 14 strokes on April 15-17 at Hammock Beach Resort in Palm Coast, Fla.
The 25th-ranked Cougars will join No. 1 seed Arkansas, No. 2 seed Texas, No. 3 seed Michigan State, No. 4 seed Florida, No. 5 seed Auburn, No. 6 seed Oklahoma, No. 8 seed Miami (Fla.), No. 9 seed Baylor, No. 10 seed Texas A&M, No. 11 seed BYU, No. 12 seed ECU, No, 13 seed Texas Tech, No. 14 seed Virginia Tech, No. 15 seed UTSA, No. 16 seed Georgetown, No. 17 seed Houston Baptist and No. 18 seed Missouri State on the 6,342-yard, par-72 layout at UT Golf Club.
Brigitte Dunne (SMU); Xiaolin Tian (Maryland); Greta Bruner (TCU); Katrina Prendergast (Colorado State); Ellen Secor (Colorado State) and Faith Summers (SMU) were selected to compete as individuals as the NCAA Austin Regional.
The Top-6 teams and Top-3 individuals not on a qualifying team from each NCAA Regional advance to the NCAA Championships, set for Karsten Creek Golf Club in Stillwater, Okla., on May 18-23.