Bit of a surprise, but well deserved:
https://twitter.com/KETK_MikeA/status/826518348368318464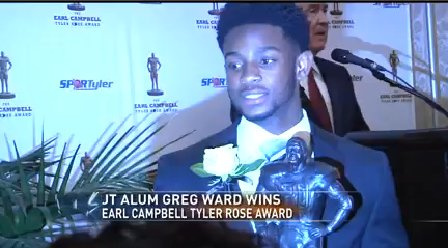 Wonder if he got invited as a QB or WO…
More than likely as a WR or Special Team/Punt returner. I would love to see him at QB but unfortunately his chance is slim to none. Remember he got banged up against ou and his shoulder was never back to normal. With the N.F.L. you never know. Just to get selected will be an awesome accomplishment.
If he did not have the injury bug he would certainly get picked up at QB if Johnny Manziel can get drafted in the first round after all
"I know probably at the next level I'll have to change positions, but that's fine with me," Ward said. "I think if I just work out and do what I have to do, I'll be able to play anywhere."
Why is Brandon Wilson not being invited? I would think he would be more highly regarded than Howard Wilson. What am I missing?
I'm thinking the same thing.
Hard to pin down Wilson's skill set; talented athlete but where do you put him. He's not a lockdown corner and he was moved to the slot because he's a better tackler than a cover guy.
Can he play safety at the next level? Should he move to RB? Is he just going to be a kick returner? His measurables will impress at pro day and someone will take a chance on him, but he's just not a combine type of guy.
I never understood why brandon Wilson didn't play safety. It might have helped get him an invite to the combine if he played safety.
The nickel corner spot he played was essentially a safety. I think that's how NFL teams will look at him. He has speed and his open field tackling and ability to tackle around the line of scrimmage are too good for him to be ignored. He probably won't get drafted, but I would be surprised if he doesn't end up an undrafted free agent with a camp invite.
I always thought it was a mistake not keep him at running back since he did so well there when Farrow was hurt.
"You have to be a great route runner," Ward said. "You just can't be fast and that's it. You have to be fast, run routes. You have to be physical. You have to have great feet."
Wide Receiver Highlights for Greg Ward Jr… He was a wide receiver for a few games at the end of his true freshman year and beginning of his sophomore year
It's been so long that I had forgotten how good of a receiver he was. Should be interesting seeing his transition to the pros. I would think his chances are at least equal to Ayers given his athleticism.
Hopefully his 40 is good.
He can play multiple options. Above all as a QB you have to be "football" smart to learn, comprehend and put into action a playbook. This will be immensely beneficial for him at the next level not only on the field but also in the class room.I am hoping that he is finally injury free. Thank you for posting.