Could this be a trend? Let's see what happens on signing day.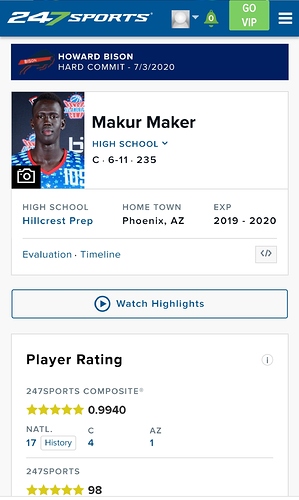 https://247sports.com/Player/Makur-Maker-45572967/
He selected Howard amongst this group?
https://twitter.com/MakurMaker/status/1278788343468142592?s=09
With top players going to the G-League, overseas and now to HBCUs, the bluebloods are put on notice that they will not always get the top rated players. I'm sure Penny is quite upset.
Mikey Williams will be the next.
Agreed. Maker still may go pro but there definitely is a shift in the options kids have now.
Howard has been working for a few years now to land a big recruit. If the other HBCUs tried as hard, we could see a big shift in the college basketball landscape. The problem is they will get hit hard from the NCAA if any tiny thing is found.
I don't think he ends up playing there. But we'll see.
Means nothing if he doesn't actually play there. Pretty easy to commit somewhere without any intentions of going there.
He's 2020 and it's July so odds of him decommiting to go to another school are probably close to zero but since he's draft eligible guessing he stays in the draft.
I thought that was odd that he graduated in May and hadn't signed with anyone. Is he going to start school at Howard next month? With that said I guess he can sign any day now before August 1st.
I would much rather see the 1 and dones go to HBCU schools instead of Duke, NC, KU, UK, etc.
Considering alot of these athletes are sons, direct relatives of HBCU grads who've lived well you would think this would have happened years ago. Zion Williamson's parents come to mind. Their only going to school for only 8 months anyway so why make Coach K richer?
Locally, won't go down that road as TSU and PV would never lose if their grads followed.
CeeDee Lamb's uncle was the starting QB at TSU. So imagine if football ever took hold but that'll never happen on the front end but getting them as a transfer is doable.
I'm not sure if 4 and 5 stars will start trending to HBCUs simply because bluebloods have a lot more money to keep top athletes going their way.
Zion became a massive star and got an enormous shoe contract so it's hard to argue anything about his decision was wrong. I think it will be really cool to see what Maker does at Howard if he plays there (I think he stays in the draft though). However it really is a big risk outside of like a Lebron level recruit.
It would be a much bigger risk in football for someone like Lamb as well vs hoops.
Zion was going to be Zion anywhere thanks to the way high schools are covered now. All he did was make Duke extra cash.
In the 80s and 90s before AAU HBCUs got 3-4 star guys easily as you could stash them in small towns. The SWAC had the nation's leading scorers on several occasions who all came from small town Mississippi.
I remember the time UH went to PV in 2010 or so and the atmosphere alone somewhat overwhelmed our guys as they got too comfortable at warm ups as they kept watching the stands and waiting on the music lol
Zion was the #5 recruit in his class, not #1, and some people were cautious about a guy who was 6'7" and 280. If he went to PVAMU and destroyed the SWAC I'm guessing he still goes #1 in the draft but there would be some questions about competition level. He almost certainly would not have been the same level of national star without the Duke platform.
TSU gave Georgetown fits one year and that was when the Hoyas were starting Mutombo and Mourning up front. They also should have beat defending champ Arkansas in 95 so it has been all that long ago that teams like that could really compete with anyone.
We also remember that run Southern had in the tournament when they had Avery Johnson and Bobby Phils.
He has 12-15 games to play against national competition in preseason and then he'll be expected to dominate the league. That's all he needs.
The way these guys are covered now before they even show up they are going to be big. It's up to espn to do the rest if they want like they do for Duke anyway.
FWIW Howard was 4-29 this year.
If Howard University could convince 3 or 4 five star talents to come play there each year before moving on to the NBA, they could become the new Duke or Kentucky - maybe even better. They could win themselves some national championships.
I wonder which one of the shoe companies is going to "back them" in order to help them become the next Big Thing. What a marketing opportunity - the new "Social Justice" line of basketball shoes!
Howard is a really good school too its probably the best if not one of the best HBCU schools as far as academics are concerned.