Now here is a game day chant I can get behind! Ya Woo Cougar Football!
You may be on to something. For kick off, or after a first down, or some pre-game thing

Acting like I am He-man, "I have the power!!"
This is actually from the UH subreddit. Someone was complaining that UH isn't UT or A&M, therefore, we shouldn't care about football. The user was also upset because the football game affected parking, so out of anger, he insisted on yelling out "YA WOO COUGAR FOOTBALL" in a derogatory manner.
Heres a screen from the original reddit post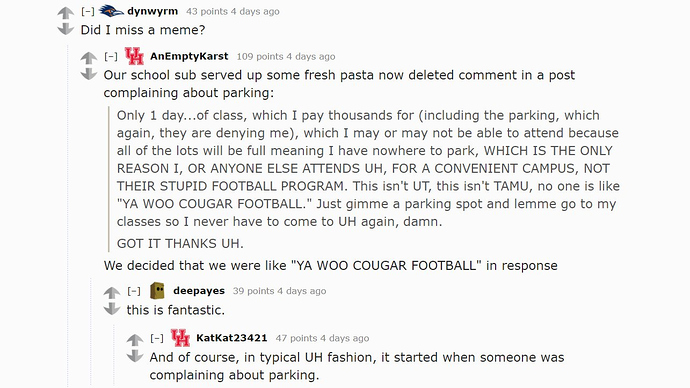 I remember checking out that user's account before they deleted it, and what do ya know, its a grad student from UT Austin. Didn't surprise me one bit.
It mystifies me why anyone feels that way about the University that will bear their degree.
It totally diminishes the value of the degree.
If you feel that way about the University of Houston, then PLEASE go to a different university.
What's the point of "paying all that money" to get a degree that you think is worthless???
further------obviously the jak-er-off is wrong about how many people care about Cougar Football if it's taking up so many parking spaces…maybe we should be mad at you for taking a parking space and a student space from someone who CARES about the University that issues the degree that enables them to make a living
/rantoff
#YaWooMeToo

I don't make a habit of giving unsolicited advice. However I need to chime in. Don't worry about people not liking UH. Laugh at them like they're ridiculous. I mean laugh like Hell.
It irritates them, confuses them, and sometimes converts them.
YA WOO, COOGS! like it. In a few years Mr. ut hadda go to UH will be bragging about starting this, and no one will believe him. LOL.
Ya woo cougar football!!!
Seriously, we need t-shirts.
Plenty of time to have some printed before USF.
The funniest thing about this whole incident is that it happened literally hours before the Tulsa game, and there was a pic of someone wearing a t shirt screenprinted with #YWCF lol
edit: found the pic from reddit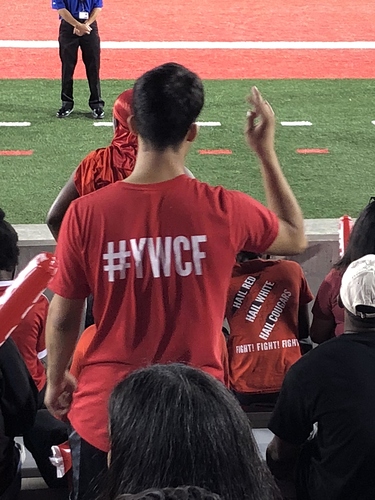 No way!!!





Oh please don't give this guy any glory…we don't any ideas from UT fans…
This thread is great. #YWCF
Ya Woo. Ya Woo. Yao Ming. Ya Woo.
You gotta luv some Ya Woo. All this contrived cap they try to "create as a tradition". Ya Woo is something you can hang your Ya Woo Coog hat on.
At first I thought this was some foreign exchange student from Sweden getting back in touch with his Coog brethren after not having been at UH since graduating years ago. "Ya Woo Dem Der Cooogaflugen".