That's the line, but I think we win. We will see.
My eye started twitching as soon as he brought up BYU's statistical ranks against all of the conference USA teams they played. He completely lost me when he said BYU could make the CFP semifinal.
People are going to lose money and the Coogs are going to win this game.
I'll remember this. Screenshot
People forget that our record was 4-8 last season
We don't have the same team as last year. We have more weapons on offense and the defense looks to play very physical. I can't tell you how many times I saw Tulane offensive lineman getting tossed to the ground at the end of plays last week.
Lol he also predicted a loss to Tulane week 1, based on our 4-8 record of last year. Try to ignore him as much as possible.
Guys like this aren't smart at football. They're smart at taking gambling addicts money. Anybody on this board except 2020 knows more than this guy about tonights game.
As someone who used to dabble in sports wagering quite a bit, I loved listening to the Sunday morning shows trying to sell their gambling/sports expertise. The guys can't even pronounce players names correctly, much less tell you what will happen in a game.
When LZ was on 790 he did a pretty accurate parody of those guys.
As soon as he said "National Title Implications", I said "Ahh so this is what BYU Dad looks like".
I'm skeptical of guys that dye their hair. He's living a lie. How can we trust him on football when you can't even trust his hair color.
Yeah something like 80% of the money is going for BYU -5 and over 63.5. That line has increased over the week, and that's with the game going off the book for a day this week after Dana's comments about all those players being out.
So I guess we have the house on our side tonight…
Everyone will be watching.
Hehehe that's a lied. But whateves. I like how you like to diverge on your prediction lol. I never predicted on a lowly conference foe beating us at home. Now if they beat a top 10 in BYU…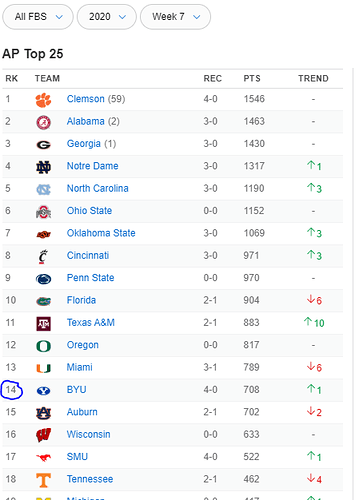 Why do you think the Coogs will lose to BYU? You are very sure in your prediction, so please be as detailed as possible by avoiding:
"they have a Heisman caliber QB"
"They're undefeated"
"they're ranked #1 in numerous categories"
or the default "we were 4-8 last year".
What does your EXPERT analysis say?
It's because we're playing a team with a bunch of older missions guys that are 22 to 27 yrs old. Basically a senior lead team each yr which is a huge diff.
Look for a bunch of receding hairlines on their team tonight.
Not sure about the age thing. Seems they'd go undefeated every year if that was such a huge advantage. I was teasing UH2020 because I can't trust him to have a valid analysis as to why we will lose, if he doesn't understand that BYU is ranked 14th and not 10th.
Usually it's easier to understand polls than it is to analyze football, but 2020 indeed has proved the unthinkable is possible!

As soon as someone points to anything that happened last year as evidence of what might happen this year, I immediately dismiss everything they say. This year's team has almost nothing in common with last year's team.