2017 Houston Cougars spring practice preview
By: Jimmy Schofield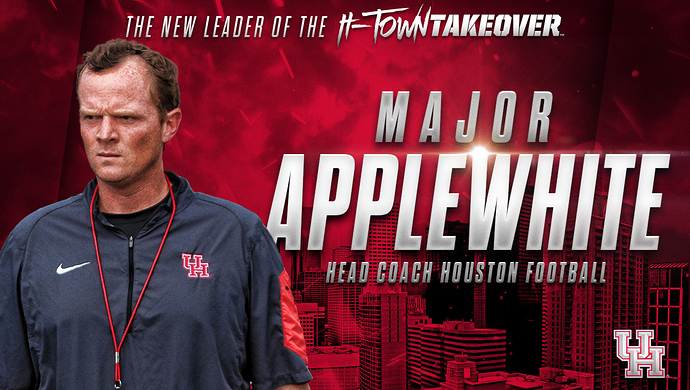 photo courtesy
uhcougars.com
With today's start of spring practice, the Houston Cougars football program puts a tumultuous 2016 season behind them under first year head coach Major Applewhite. After three practices this week (Monday, Wednesday and Thursday), the team takes next week off for spring break before resuming Tuesday March 21 for the final 12 practices, to be concluded with the annual Red & White game to be played at TDECU Stadium on Saturday April 15 at 2pm. With that, we take a look at some strengths and weaknesses of the team heading into the 2017 season.
• The three biggest position battles
Quarterback: With Greg Ward Jr. taking his 27-6 starting record over the past three seasons along with over 8,700 passing (52 touchdowns) and nearly 2,400 rushing yards (with 39 rushing TD's) on to the NFL, this is no doubt the biggest position battle and will be until a starter produces during an actual game, or ten.
The favorite heading into the spring is Kyle Allen. The 6-foot-3 inch, 210 pound transfer from Texas A&M was ranked as the top overall QB for the 2014 class, per 247 sports after passing for over 8,000 career yards out of Desert Mountain High in Scottsdale, Arizona. In his two seasons in College Station, Allen saw action in 20 games with 14 starts (winning 9 of them). For his career he completed 59-percent of his passes (278-for-475), for 3,522 passing yards with 33 TD's and 14 interceptions. After getting his feet wet in 2014, winning three of the final five games, A&M started the 2015 season 5-0, only to have Allen hurt his shoulder in a loss versus Alabama. He never recovered from spraining his AC joint as he lost two of his final three starts before transferring amidst a controversy of how head coach Kevin Sumlin handled the quarterback room. While not fleet of foot, Allen can scramble enough to add a zone read element to the offense, an option both Applewhite and new offensive coordinator Brian Johnson hopes to keep in the offense.
Pushing Allen will be Bowman Sells (6-2, 205). The redshirt freshman has a great arm according to Applewhite, is physical and has experience as he was a four year starter at Lucas Lovejoy where he threw for over 8,700 yards and 95 TDs. He also has over 1,000 career rushing yards and this will be his second spring as he enrolled early last year.
Bear Fennimore (6-1, 215, Jr.) and Mason McClendon (5-10, 190, Jr.) will also get reps as Fenimore has the size for the position at 215 pounds but hasn't established himself in the pecking order. Both Kyle Postma (6-2, 180, Sr.) and D'Eriq King (5-10, 170, So.) would have tossed their hats in the ring if not for injuries keeping them out of spring practice, which we'll get into later. With as much competition as there is under center, hopefully this allows true freshman Bryson Smith to be redshirted. At 5-11, 170 pounds, the Tyler native could be the next "Garry" Ward, a dynamic playmaker that could beat you with his arms or legs as he passed for more than 5,000 career yards while completing over 60-percent of his passes and tossing 52 TD's (to only 16 interceptions), while also rushing for 3,100 career yards and 44 TD's.
Offensive line: New offensive line coach Chris Scelfo returns eight players who have started a minimum of five games over the past two seasons. In all, the eight have combined for 85 starts over the past two seasons. The problem is where to place them as over the past two seasons there have been 17 different starting offensive lines, mainly due to injuries (that's in 27 total games). Of course injuries have thinned out the O-line before the first practice even began as starting center Will Noble (6-4, 290, Jr.) takes his 20 career starts over the past two seasons to the sidelines because of a broken leg suffered over off-season workouts. Backing him up will be either Alex Fontanta (6-3, 310, Sr.) or Ryan Deshotel (6-4, 275, Jr.). Fontana has been the only player to start a game at the position other than Noble or Colton Freeman (who had to retire before last season began due to stinger issues), and also started three games last season at left guard and one at right guard.
Josh Jones (6-5, 280, RSo.) started every game at left tackle last year and is backed up by redshirt sophomore Jarrid Williams (6-6, 290). Braylon Jones (6-3, 278) started the final six games last season at right tackle as a true freshman after JC transfer Na'Ty Rodgers (6-5, 295, Sr.) started the first seven but was lost due to a lingering ankle issue, that is fine now.
As far as the starting guard spots go, it should be a battle between Kameron Eloph (6-3, 295, Jr.), Mason Denley (6-4, 305, RJr.) and Marcus Oliver (6-3, 295, Sr.). Eloph has started six games at left guard and two along the right side over the past two seasons while Denley has started 12 (including the final five last season), all at left guard. Oliver meanwhile, started eight games last season at right guard (including the final five) after starting five games at left tackle and one at right during the 2015 season.
The offensive line will be a focal point in spring ball as the offense must improve from last season as their 147 rushing yards-per-game ranked them 99th nationally, a season after averaging 235 per game on the ground. Not good for an offense that Applewhite wants to base off the establishment of a power run game early in games.
Cornerback: When Howard Wilson surprised a lot of people by declaring for the draft in January, secondary coach and co-defensive coordinator Clay Jennings lost his shut down corner. The unit will have to help contribute more turnovers forced wise as the secondary had only seven interceptions last season. Jeremy Winchester (6-0, 190, RJr.) returns with nine starts over the past two seasons as he's amassed 62 total tackles (46 solo) along with 11 passes defended (8 last year), two tackles-for-loss and a sack. The other spot will be manned by Ka'Darian Smith (6-0, 175, So.), Patrick Rosette (6-1, 195, RFr.), Javian Smith (6-1, 165, So.), Joeal Williams (5-10, 185, Jr.) or the wildcard of the bunch, Isaiah Johnson who moved over from wide receiver as a redshirt junior.
Of the aforementioned, only Williams has seen the field for major action and that's been mainly on special teams as they are all lacking in experience with a combined ONE pass defended (by Javian Smith last year). Williams does have a sack, TFL and a forced fumble to his name from last season and blocked a punt during the 2015 season. Johnson could become the lockdown corner as he has the size (6-4, 205) and speed (rumored to have a legit 4.29 speed in the 40), but does he have the hips and fluidity to learn the technique for the position?
I'll add a fourth position battle here and say outside linebacker as with the loss of Tyus Bowser to graduation and the NFL, new defensive coordinator Mark D'Onofrio will need to find a pass rush specialist and could find him from a group of Emeke Egbule (6-3, 230, Jr. ), Leroy Godfrey (6-3, 240, RSo.), Jordan Milburn (6-1, 225, So.) or Nomluis Fruge (6-0, 225, Sr.), all of whom have put up minimal numbers in limited playing time.
Last season's strength coach, Yancy McKnight, was the most impressed with Egbule before last season began as a "workout warrior," though in never showed on the field as he had just 14 solo tackles (22 total), though he did have a fumble recovery for a TD against Tulsa. Also, four star rated signee Bryan Jones is expected to make the biggest impact in this area once he arrives over the summer, whether it be as an outside linebacker or down lineman at 6-5, 240 pounds out of Baton Rouge, Louisiana.
• The 3 strongest positions
Defensive line: With D'Onofrio keeping the 3-4 scheme, his starters at the three downline men spots are set with Ed Oliver (6-2, 290, So.), Nick Thurman (6-4, 290, RSr.) and Jerard Carter (6-3, 297, RJr.). All Oliver did last season as a true freshman was amass 66 total tackles (47 solo), 23 for loss (which was second nationally), lead all down linemen with nine passes defended, ala the JJ Watt swatting down the ball at the line-of-scrimmage. He also added five sacks and forced three fumbles as he was named to just about every All-American team nationally (freshman or not). Thurman has made just six starts but has appeared in 31 career games and has 10.5 TFL, 3 passes defended, 2.5 sacks and 2 forced fumbles while Carter has appeared in 25 career games with 8 starts in which he's produced two TFL and two forced fumbles.
With Cam Malveaux and B.J. Singleton both graduating, the depth along the line appears iffy as only Zach Vaughan (6-4, 270, RJr.) and Aymiel Fleming (6-2, 285, So.) appeared in any games behind them last year. The line should be able to keep inside linebacker Mathew Adams (6-1, 230, Sr.) clean as a downfield missile like Steven Taylor, Elandon Roberts, Derrick Mathews and Marcus McGraw before him.
Wide receiver: With Linell Bonner (6-0, 205, Sr.) and Steven Dunbar (6-3, 210, Sr.) returning at the slot and one outside spot respectively, this position will be solid heading into spring with only one position up for grabs from the likes of sophomores Keith Corbin (6-2, 175), Courtney Lark (6-1, 165), Terry Mark (6-1, 190) and Marquez Stevenson (6-0, 175). Corbin led the way with 6 receptions for 68 yards in only 7 games while both Lark and Mark had 3 catches each for a combined 34 yards. Stevenson only played in the final 2 games of the year as he recovered from a broken collarbone and had one reception for 36 yards on a push pass.
Also, if Allen wins the QB spot with Sells backing him up as expected, both Kyle Postma and D'Eriq King can also play wide receiver, giving the team even more depth at the position.
Safety: Both starters return in Garrett Davis (6-1, 200, RJr.) and Khalil Williams (6-0, 200, Sr.) along with Terrell Williams (6-3, 210, Sr.) who played in the nickel early last season and true freshman Collin Wilder (5-11, 175, So.). Williams had 52 solo tackles last season to Davis's 45 while Davis had 7 TFL to Williams 6.5. Davis also added 5 passes broken up and 3 sacks to 3 and 2 respectively for Williams. Neither had an interception and got confused in coverage leading to huge pass plays numerous times last season, especially on play action fakes. The duo must communicate better this season in the passing game as both are physical run defenders. Terrell Williams had 24 solo tackles in 13 games and will help to shore up the vacated nickel spot left by the graduation of Brandon Wilson.
• Newcomer to watch, offense (JC transfer, grad transfer, transfer true frosh, redshirt frosh)
Dalton Witherspoon; Kicker. With only three total kickers listed on the roster (Luke Hogan and Joel Scarbrough) and with Weatherspoon being the only newcomer this spring, he wins this by default, but he'll be in a very important position battle no less with multiple year starter at kicker in Ty Cummings graduating. Witherspoon connected on 17-of-21 field goals, including a long of 58 yards, last season at NorthEastern Oklahoma A&M. During his senior season at Moore (Ok) he had 27 touchbacks on 36 kickoffs.
• Newcomer to watch, defense (JC transfer, grad transfer, transfer true frosh, redshirt frosh)
D.J. Jenkins; defensive line. Jenkins was ranked as one of the tope inside linebackers in the state of Texas coming out of Huntsville, but an injury forced him to redshirt last season. With added bulk, he's up to 260 pounds, he has the overall size (6-2) that's needed in order to shoot gaps on the interior which throws off the timing of offenses.
• Veteran on the spot, offense (an UPPERCLASSMAN who needs to show something this spring or risk not seeing much time this fall)
Duke Catalon; running back. Whether it was because he was rusty due to sitting for the two previous seasons before the 2016 season (because he redshirted at Texas then had to sit a year due to transfer rules), or because of an ankle injury suffered early on last season, Catalon didn't live up to the hype as a former four star ranked running back out of Houston's Aldine Eisenhower. In nine games last season, Catalon only rushed for 528 yards and averaged just 3.6 yards-per-carry as he seemed to "dance" too much behind the line instead of picking a hole, planting a foot in the turf and charging up field. Of course the offensive line didn't do its part as much as coaches would have hoped. Catalon was also a very capable receiver out of the backfield as he caught 44 passes for 281 yards and three TD's, all good for fourth receiving wise on the team.
While Catalon will be given the benefit of the doubt to a new staff, pushing him are Dillon Birden (5-9, 175, Sr.), Mulbah Car (5-11, 195, So.) and walk-on Patrick Carr (5-10, 195, RSo.). While Catalon danced too much behind the line, Birden was much better at picking a hole and gaining yards via their one-cut zone scheme as he averaged 4.7 yards-per-carry and scored 6 TD's. Car averaged 4.2 yards and crossed the goal line twice early in the season as a between-the-tackles back while Patrick Carr had to sit due to transfer rules, though he averaged 4.1 yards on 66 carries (272 total rush yards) as a true freshman at Colorado during the 2015 season.
• Veteran on the spot, defense (an UPPERCLASSMAN who needs to show something this spring or risk not seeing much time this fall)
Chauntez Jackson: Defensive line. After redshirting last season, the 6-foot-5 inch, 290 pound beast has one final season to impress the staff. Because of the lack of depth along the defensive line he should get a decent look this spring.
• Notable players who will miss spring practice
This is a pretty lengthy list, starting with quarterbacks Postma (arm) and King (leg) and center Will Noble. Also of note, offensive lineman Josh Thomas, tight end Chris Johnson and linebacker Kobe Idumwonyi have all been forced to "retire" due to concussions.