If it didn't come from @UGAInsider, I don't believe it.
Also, it says right there in the tweet "Big rumor." Rumors, by their very nature, are unconfirmed.
Another rumor said Herman told team he is staying at Houston
Did you start that one?

There is a rumor that the rumor is confirmed. We will confirm that rumor upon hearing rumors from our sources.
It's on the CoogsHouse Facebook page…
NOT TRUE says every big money booster for UT. WE DON'T WANT HIM!!!
I bet JD and Berman won't even ask him about it.
I guess we just sit here and act like we aren't getting royally screwed here.
Getting paid $3M to screw up our potential program changing season.
Congratulations! Your post wins the "Dumbarse Post of The Day".
Please come by my office and pick up your award.
Hi Chris,
Very disrespectful comment. Unfortunately I can't ignore you on this site. So I ask that if you don't agree with my opinions, keep it to yourself.
For anyone interested, here is the CoogsHouse FB post mentioned by @CaptainCougar. Make of it what you will.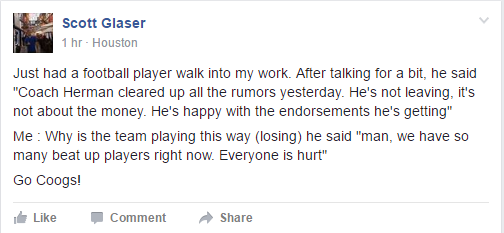 JD just said his sources at UT agreed there has been no contacting Herman. That is gold IMHO.
Where did JD say that? Didn't see it on his Twitter or FB feed.
JD is on periscope right now
That was funny. I'll have to remember that one.
So now another clown journalist reports off of the Albright tweet. I'm listening to JD only.
…why did you post a screenshot of his linkedin that leaves off the last 3 years?
kfd91 didn't leave anything off. The guy hasn't updated his LinkedIn page in a while.