Whoa. When did we wear the Gray UH decal helmets? Looks sick!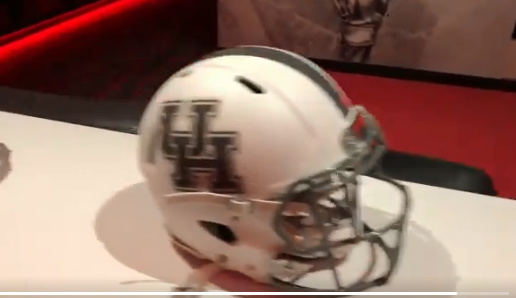 I like the red with white UH and the white with the Texas flag UH
White helmet with red UH.
i love it when we wear it with the white jerseys and white pants.
The chrome version are pretty cool. Not sure if they ever wore them during a game.
Those Candy Red's with the cougar or the logo are so sick. That white one with the cougar i like also with the more breathable/angled helmet.
HATE the flag logos. HATE EM. Love the traditional red helmet with white UH or the white helmet with red UH. All the others, meh.
I've never liked the candy red.
Agreed on the flag logo. Just looks like a smudge…
Really? i like how it looks under different lightings. It just pops. I dont think it be the same affect with matte or gloss to me. Just my personal favorite.
I am okay with them for special situations: playing Navy, Armed Forces Appreciation Day, Armed Forces Bowl, etc.
It just looks odd to me because it doesn't quite match our red.
Sorry I'm a non-traditionalist. I like the white with the chrome thundercoog. We haven't used that one yet. I think we have an excellent record with the red and black UH, I like that one too.
Of course I will gladly defer to the four star recruits. Whichever one they think is cool I'm all for.