Game 9 post game analysis: East Carolina
By: Jimmy Schofield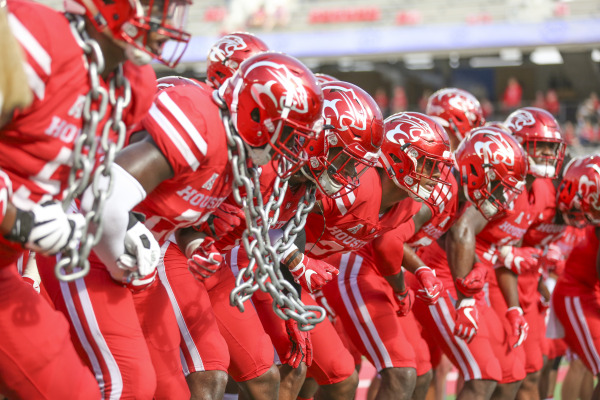 photo courtesy uhcougars.com
Behind an explosive offense and an opportunistic defense, your Houston Cougars became bowl eligible for a fifth consecutive season with a convincing 52-17 victory over the East Carolina Pirates Saturday afternoon at TDECU Stadium on homecoming. Coogfans.com breaks down all three phases of the game.
Offense
The offense could best be described as explosive and efficient in gaining 472 total yards (330 passing, 142 rushing) in just 20-minutes of possession time. Against a putrid ECU defense, one would figure offensive coordinator Brian Johnson would try to establish the run game first then hit the Pirates deep via play-action. The opposite occurred when quarterback D'Eriq King went deep on their very first play from scrimmage. That pass to wide receiver Linell Bonner was a tad overthrown, but little else went wrong as King completed 15-of-21 passes for 330 yards with 3 TD's in his first official start. By my unofficial count, King completed 5-of-7 deep passes (balls over 20 yards in the air), for 209 yards and a TD. And that's not including a 75-yard TD to Steven Dunbar that came on a simple 10-yard slant. Those YAC (yards after the catch) yards are because King placed the ball so well his receivers didn't have to break stride after catching them.
The confidence Johnson and head coach Major Applewhite showed in their quarterback was refreshing, and rewarded as King beautifully placed the ball whether it was a comeback, a crossing pattern, a back-shoulder fade or a deep post. I also noticed King throwing over the middle more than Kyle Postma did.
His receivers also rewarded him as Bonner came up with 147 yards on 7 receptions and a TD from the slot. Dunbar had a career day with 6 grabs for 171 yards and a score from his outside spot. He also had a beautiful over the shoulder reception for 40 yards and a 32 yarder on a back-shoulder fade. Courtney Lark had just one catch, but it went for a TD on a 5-yard slant in the second quarter. Tight end Romello Brooker had a catch for 7 yards to round out the receiving. The wideouts also did a nice job on blocking on the perimeter when King went to the quick passing screen game.
With King able to connect deep early on, the offensive line of Jarrid Williams, Braylon Jones, Will Noble, Marcus Oliver and Na'Ty Rogers did a fantastic job blocking the interior and perimeter in their inside and outside zone run schemes. Williams particularly did a nice job clearing out the edge on the left side in his first career start. Rogers left in the third with an injury, so Oliver moved over to replace him as Mason Denley took over at right guard.
Duke Catalon rushed for 77 yards on 9 carries including a nice 22-yard TD in which he started left, cut back and exploded through the hole untouched. Mulbah Car ran for 29 physical yards on 8 carries and TD. The sophomore also made a nice kick-out block on a quarterback power run by King for a 3-yard TD. The Manvel product rushed for 14 yards on just 3 carries, including an 11 yarder on a zone read option keeper. Davion Mitchell showed he's not afraid to run inside despite his size on his 2 carries, for 6 yards while Patrick Carr rushed for 16 yards on 4 carries to close out the game.
Defense
As aggressive as the play calling was for the offense, it was quite the opposite for the defense. That has to do with injuries, and point blank; a lack of talent. Without a bonafide pass rusher that can effectively pressure the quarterback and a lack of a shut-down corner, defensive cornerback Mark D'Onofrio must try to manufacture a pass rush via stunts and delayed blitzes off 3 and 4-man base fronts.
The cornerback quartet of Isaiah Johnson (2 pass breakups), Jeremy Winchester (3 tackles), Alexander Myres (a PBU) and Joeal Williams (7 tackles) were playing such soft coverage it was simple pitch-and-catch for East Carolina quarterback Gardner Minshew, who completed 52-of-68 passes for 463 yards with 3 TD's in reserve of Thomas Sirk (2-for-6, 5 yards). The strategy of playing a soft zone only worked because the back end tackled decently in space, holding ECU receivers to just 8.9 yards-per-catch. It also allowed safeties Terrell Williams (5 solo tackles) and Brandon McDowell to sit back and read the QB's eyes as they both intercepted passes after breaking on routes, leading to 14 points. McDowell had his best game of the season in extended playing time with a few hard hits over the middle (3 tackles) and a 75-yard "pick-6." The secondary wasn't helped with the absence of nickel back Khalil Williams not playing due to an ankle injury, Johnson leaving due to a arm/shoulder injury (though he later returned), and free safety Garrett Davis (5 solo tackles) playing limited time due to a lingering shoulder issue.
With limited blitzing, the down linemen and linebackers held ECU to just 36 rushing yards on 29 carries. It helped that the Pirates didn't even try their first inside run until early in the second quarter of course. With inside linebacker Matt Adams (3 solo stops) still limited by knee and ankle issues, Austin Robinson continues to have his number called at an outside spot and he responded, leading the D with 12 total tackles (7 solo), including 1.5 for loss. D'Juan Hines added 7 tackles and a TFL from an inside spot while Emeke Egbule continues to fly all over the field from his outside spot with 6 tackles, a TFL and a fumble recovery. Youngster Leroy Godfrey will continue seeing more reps from his outside spot as he was second with 8 tackles, including 1.5 for loss and a sack.
Even cut blocks and chips couldn't stop Ed Oliver (3 solo stops and a TFL) from clogging the interior which is exactly what he and fellow down linemen Nick Thurman, Reggie Chevis (3 tackles), Jerard Carter (a hurry), Aymiel Fleming (3 tackles), Payton Turner (pass deflection) and Zach Vaughn did, allowing the linebackers to clean up.
Special Teams
Dane Roy continues his solid punting this season as he averaged 48 yards on his 3 punts as the coverage team didn't allow a return. Caden Novikoff connected on a 44-yard field goal but had just 3 touchbacks on 9 kickoffs as the kick coverage teams allowed 5 kickoffs for a 23.4 yard average. McDowell didn't have a punt or kick return as he's become increasingly important this season.
Over all it was a great day at TDECU Stadium. The offense will continue to grow with King taking all the practice reps at QB while the defense still has a lot to improve on during the off-week. Applewhite saying as much after the game as he talked about "assignment and technique" errors from his secondary. The Coogs return to the gridiron Saturday November 18 in the Big Easy against Tulane. Stay logged into Coogfans.com for all the latest news and a game preview next week.