The schedule is out for both indoor and outdoor.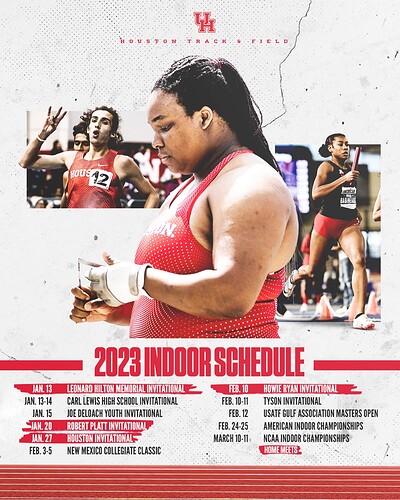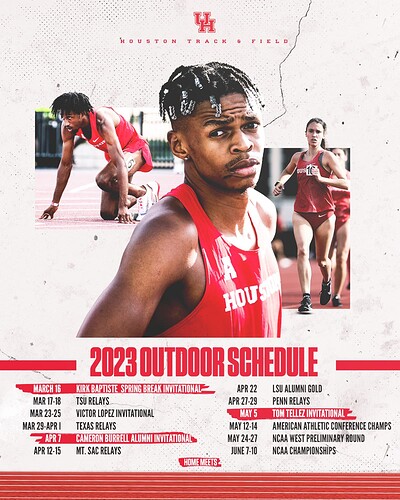 https://scontent-dfw5-1.xx.fbcdn.net/v/t39.30808-6/309210710_484319850347282_6324749915503928974_n.jpg?stp=dst-jpg_s960x960&_nc_cat=105&ccb=1-7&_nc_sid=730e14&_nc_ohc=dLscPbtfo4cAX9_DqOV&tn=nj-nTBe2EqvgZv8F&_nc_ht=scontent-dfw5-1.xx&oh=00_AT9lEzi28EtUQTfpBC4MZXLRUg2sIkFvRNxqRJkyXPqwhQ&oe=6343248F
Also some love for cross who wrap up at the end of the month with the conference championships.
Conference meet in two weeks
Big shout-out to Claire Meyer for finishing 12th at the conference meet and getting All-Conference honors! First (and last) UH female cross country all-conference member in the AAC. Women were 7th overall as a team, men were 8th. Hopefully we can get a good cross coach heading into the Big 12 and get things rolling.
Do we have a chance to compete at nationals?
I haven't done a deep dive, but we will probably need a dominate performance from Shaun to have a shot (15+ points in 100/200). Hamberlin should be back so our 4x100 will be favorites most likely and him and Booker could bring in 100/200 points too if improved. Still have Sampy in the pole vault, Brome in the triple jump, a few nice hurdlers, and a freshman long jumper who could make nationals year 1.
Did anyone else catch the interview of Carl at halftime last nite on the ESPN broadcast? Serious talk of winning the NC this spring
Missed it. Did he seem like he was just trying to hype people up or that he really believed it? I don't see this squad as strong as 2018 or 2019. The positive is there isn't a clear cut dominant team anywhere else in college this year either.
It was more of Matt Pederson pushing it. Carl
Didn't backdown from any of it and kind of went thru what needed to happen
BTW, Carl liked like he could still go out and run & jump with anyone
I watch the rerun on ESPN+ but couldn't hear a word Carl said.
BTW coach Burrell was at Ridge Point High trying to recruit a sprinter we have offered. That's why he was at the Alabama game
Coach was cautiously optimistic and didn't back off from the national championship talk. Sound was horrible, but he did mention a few red shirts and off season improvements. Can't remember the names. Positive on the 4x100
If Hamberlin is back in top shape, we are the favorites for the 4x100 and have 3, maybe 4 legit contenders in the 100/200 for points.
I just looked up and realized it's January.
First meet is January 13, Leonard Hilton Memorial meet.
By the way, I said hello to Coach Burrell at the UCF basketball game on Saturday. He was decked out in his UH gear.
Now that I see how close the track season is… Shouldn't he have been back at Auburn, working?

Coach Burrell may have been in Houston visiting relatives before track season starts.
I was definitely happy to see him here. He truly loves this school, doesn't he?