Figured I'd get this started. Has us projected as a 4 seed playing UAB
Computer Numbers:
Torvik: 21
Kenpom: 15
Sagarin: 7
BPI: 5
Some of these haven't updated after last nights game. I will try to update as much as I can
Guess ESPN has nothing better to do !
Computer Numbers: 11/12/21
Torvik: 13
Kenpom: 15
Sagarin: 11
BPI: 4
I don't know what BPI is but I like it the most so far.
Where are we in the cart before horse rankings?
I don't know what Torvik is but I know BPI is trash

11/17/21:
Torvik: 13
Kenpom: 8
Sagarin: 6
BPI: 4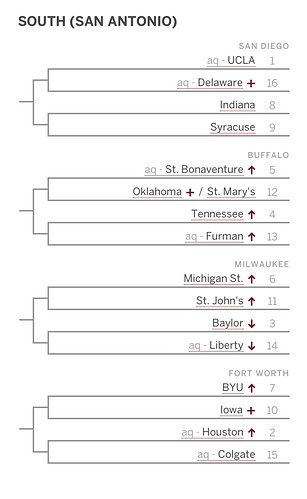 Has us as a #2 seed in the same bracket as UCLA, Indiana, BYU, Michigan State, Baylor, Tennessee.
Side note: UCLA can get it anytime they want
Yes, moved from a #4 to the two line……lots of basketball to play.
Just keep improving, get everyone healthy and we will be fine.
Torvik #6
Kenpom #6
Sagarin #7