Unbelievable comeback win for the Texans.
The Stroud/Dell combination has amazing chemistry.
But is Belk the DC for Texans
Bet Belk is glad he never worked at USC, he'd have already been fired from there.
So Cal big donors are less patient than UT or A&M donors.
Dell is awesome but let's don't get carried away, Jerry Rice is probably the GOAT lol
The Texans are interesting for the first time ever. I feel like I am falling in love with a pro team for the first time since the Oilers.
"God we love Coogs in the NFL"
Interim co-DC is former UH staff member
"Odom spent 3 years (2012-14) as the co-director of sports performance for Houston's football program."
Really encouraging for the Texans. Turning into a team we can get behind. Stroud is a gamer and I'm impressed.
Maybe so - for now. But just give him time.
UH = WR U
Take any angle we can get
The Stroud / Dell connection is looking good already and they're just rooks.
Awesome to see Tank having such an impact in the NFL. Nice that Texans are more fun to watch these days, but they've got to draft some defensive help. It seems that one-on-one, Dell is almost impossible to cover. He was nails that last drive!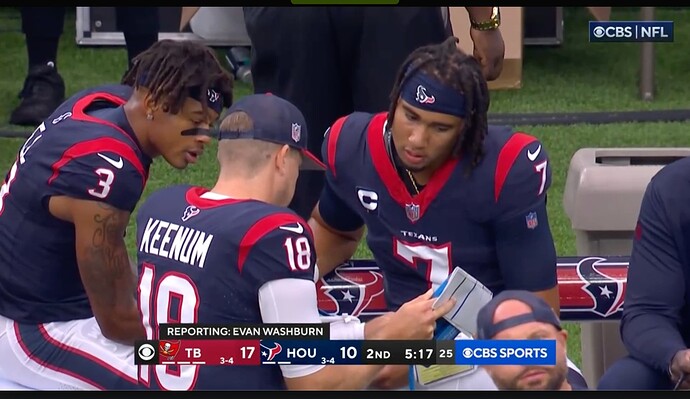 This image is pretty cool! I went to tOSU for grad school and I was an undergrad at UH during the Keenum years so this one brings together different eras for my life!
Two Coogs and one Buckeye! Cool!
I always knew that CJ Stroud is the most accurate passer from the 2023 draft. With so much hype going on for Bryce Young and so many fans and experts clamoring for him I said on this site that losing the first pick to Chicago could be a blessing in disguise for the Texans and boy am I glad I am right! Because I knew most likely the Carolina Panthers were going to pick Young over Stroud once they have gotten that first pick from the Bears because of how strong the Bryce Young hype train was! Too many teams and "experts" tend to over-evaluate players and so they ended up picking the wrong guy! This happened way too often in the NFL!