He also talked about coming to the upcoming golf tournament deal, so it's a lock.

Heard Baylor and Kentucky are the two front runners with Baylor with the lead currently.
all about that $$$ for Tre.
Nate
Okay, so we have Mercy coming…finally! Been waiting awhile

Anybody care to recap who we are actively recruiting for 24'?
3star nic codie just took an official… he is the one that a decision might come soon
everyone else its either too early, or soo long that the recruitment is probably dead
Next year, lots of second year guys and a couple of portalians.
Mercy Miller can finally sign in about 6 months.


https://twitter.com/takemytalent/status/1658574944253407241
https://247sports.com/college/houston/Season/2024-Basketball/Offers/
Nic Codie: TCU, Houston, Virginia Tech interested
Also expects offers from Texas & Illinois
Duke gonna get both Boozer twins…
I'd be pissed if my "twin" was 6" taller than me…

https://www.si.com/college/duke/recruiting/duke-basketball-cameron-boozer-option-recruitment-5-23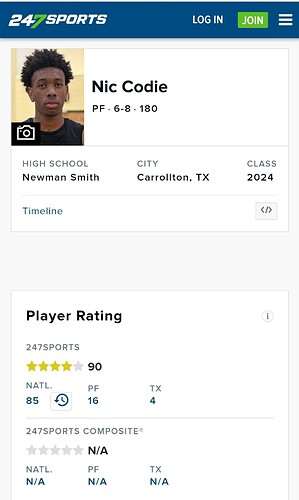 https://247sports.com/player/nic-codie-46136660/
Codie getting a 4 star ranking by 247sports
Robert Miller, 4 star ranking as well
https://247sports.com/Player/Robert-Miller-46128767/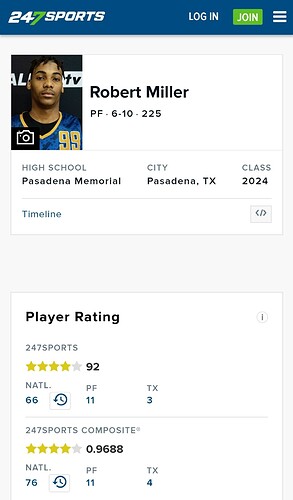 Miller is a big kid.
Anyone seen him play?
This is actually the one sport where we can pretty much count on everything going well enough. CKS has had a lot of guys play above their respective resumes. No reason that shouldn't continue.
Spoke with my fellow refs and they saw him play a couple times while doing his games. Said he's talented and big. But he's a little soft. It's all about attitude if the staff is recruiting him I'm sure they'll get him to play hard if he comes here.
For example, if he gets stripped he usually doesn't sprint back and lets the guy who ripped him get an easy two.
He's on a weekend visit to Colorado right now.
Yeah, that won't fly here.
Even in years I don't have a great talent level other teams know they will see a couple different presses, some 1/2 court traps and at least three or four defenses….we are gonna play extremely hard and give you different looks…especially after time outs.
And if you are not busting it back on "D" you are sitting….very rarely an issue.
I never understood how coaches allowed their guys to coast and not pull out their own hair.
If the kid is already loafing he may not be cut out for a CKS led team.
Sampson doesn't give a rats rumpus about star ratings lol
True, but 3 star guys typically seem to be long term projects. Like Jwan Roberts, Francis, Ramon Walker
4 star and obviously 5 star can typically contribute year 1
Sampson cares about getting good players. Good players have higher star ratings. He doesn't have a personal rating system that is completely different from everyone else. So he does care about getting players with good star ratings, even if he doesn't pay any attention to what rating a particular service gave a particular player.
One way to accurately say it is, Sampson doesn't make his final decisions based on player ratings