https://247sports.com/player/jamaal-shaw-46111815/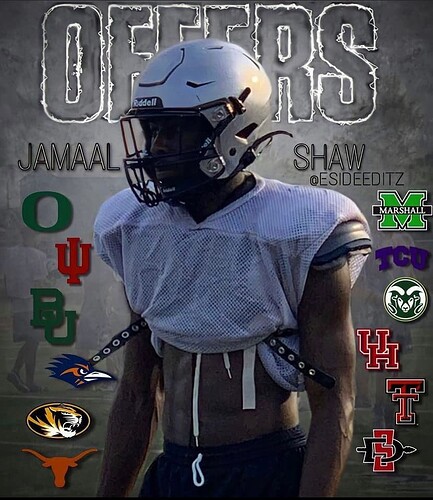 https://twitter.com/rob_sellers_/status/1563270161230049280?s=21&t=4Swmtrv4NZOuH_dYiZxVIQ
He's also Pancake's cousin.
Does that make him and Earl Thomas kin?
Everybody in the Golden Triangle is related. Lmao
Yeah, but I think pancake and Earl are first cousins.
Big boom. Beat Baylor and TCU!!
Even Bum and Wade included ? ? ? ? ?
I believe Bum and Wade are in fact related
Well played. I thought of that too, but was too lazy to edit the post. The other way to think of what was an obvious joke is are they related to all of the other UH Cougars from the Golden Triangle . . . . .
Triple jumped 41-7… That's all I need to know.
Why? 41-7 is not all that good. It is fair at best.
I'm definitely concerned about any of our DB's not putting out at least a 45' triple jump when cutting down the angle on a WR off to the races.
Seeing this pursuit of a receiver in my head cracked me up.
You're shizzing me. Really?
Well then, I guess if someone isn't concerned, they shouldn't write that was all they needed to know about the the "DB".