Per 247 Corey Chest and Joseph Tugler are the other targets
Watch him climb the rankings for the next year….Our next great point guard.
Any chance we can get him on campus in January?
KJ said top two reasons he chose UH is 1. Fit 2. Family to see his games
Welcome to the Coog Family Kordelius! I know you will have a good time here and our staff will develop you to your full potential.
"I take pride in guarding a team's best player and ultimately just being a leader."
Sounds like a perfect fit for us.
I'm surprised Joseph Tugler is a top target for us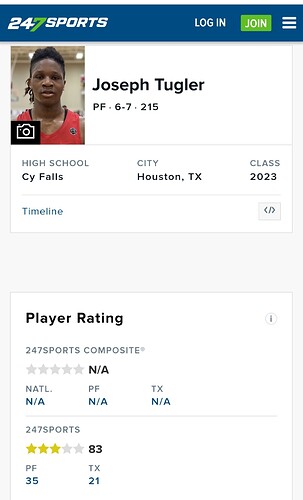 Joseph Tugler?

. A diamond in the rough?
Any 6'10" recruits for us in the near future?
All 6'8" and below. Okie doke
He is just under the radar right now and he is a perfect fit.
… **[Joseph Tugler] will have a star added to his name come next update. Already known for length, athleticism, and relentless approaching to crashing the glass, Tugler has added weight to his frame and is all the more impactful on the glass because of it. Kansas State , Houston , and TCU are the high majors actively involved.
I love that reference to the Coogs! It was a long time coming and fits so well.
Actually got some pub in the Dallas Morning Snooze
Kordelius Jefferson commits to Houston
Jefferson, the state's seventh-ranked player per 247, chose Houston over the likes of Tennessee and Texas Tech.
Arlington Martin's Kordelius Jefferson (23), right, steals the ball from El Paso American's Jose Luis Lugo (5) during the first half of the Class 6A Region I boys basketball semifinals in Fort Worth, Texas on Friday, March 4, 2022. (Michael Ainsworth / Special Contributor)
1:16 PM on May 16, 2022
Arlington Martin four-star guard Kordelius Jefferson announced his commitment to Houston on Monday.
Jefferson, the seventh-ranked junior recruit in the state of Texas according to 247Sports.com, chose Houston over the likes of Tennessee, Texas Tech and Texas A&M. The Cougars offered him a scholarship in December, and Jefferson visited the campus last weekend.
"Just go in, have an impact my freshman year," Jefferson said on Instagram live before his announcement. "Do as much as I can. Get my name out there, get on a platform and be ready to work as soon as I get there."
A 6-3 combo guard, Jefferson averaged 9.2 points, 5.2 rebounds, 3.9 assists and 1.5 steals as a junior for Martin (28-8), which advanced to the 6A Region I semifinals. Both 247Sports.com and Rivals list Jefferson as a top 100 player in the country.
He's the first player in the class of 2023 to commit to Houston, and the first Dallas-area recruit to choose the Cougars since Red Oak's Marcus Sasser in 2019.
Houston won both the AAC regular season and tournament championship last season and advanced to the NCAA Elite Eight.
https://www.madehoops.com/news_article/show/1224162
JOJO TUGLER
2023 // 6-8 Wing // Houston Hoops
Recent Offers: Houston, TCU, Kansas State, Georgia Southern and Tulsa.
The breakout appears to just be getting underway with Houston Hoops' Joseph Tugler. The 6-8 big wing fits the bill as an explosive, rugged athlete with a roaring motor and ample length. Around the clock activity on both ends with quick feet, high volume production on the glass and pronounced movement skills. A violent athlete with inherent rim running traits and a disruptive approach defensively. Ball skills, quick off the ground, imposing defensive presence and high level rim pressure as a cutter, in transition and in the dunkers spot. TCU, Kansas State and Houston won't be the last high majors to get involved, although the hometown Cougars make for a wildly enticing fit
Great JR stats with rebds, assist and steals for a 6'3 guard.
What type of shooter and scorer is KJ ?
More like FindingCoogFans!
Welcome Kordelius!
Also, we're complaining about recruiting a player with current offers from TCU and Kstate who looks like he could get more offers?