UH vs Virginia in the Military Bowl
Texas v Notre Dame. They should rename it "the overrated bowl". I've never seen 2 more overrated programs in my life.
Not the arctic but chilly MD on Chesapeake Bay in late Dec could be a grind.
Hoping for a warmer spot but its better than Boston. (like the town but not @ Xmas)
" American Athletic Bowl Tie-Ins, Affiliations
Highest-ranked champion from the AAC, C-USA, MAC, MW & Sun Belt will play in a New Year's Six bowl – either a College Football Playoff semifinal, Peach Bowl, or Fiesta Bowl.
The American Athletic Conference doesn't have a true pecking order – the bowls matchups are based on best possible games and geography.
Also, these tie-ins are a bit loose – ESPN might make changes if there's a better opportunity and stronger matchup in one of its owned and operated bowls.
The American Athletic will get teams in these bowl slots …
– Fenway Bowl vs. ACC
– Military Bowl vs. ACC (2021, 2023, 2025)
– SoFi Hawaii Bowl vs. Mountain West
The AAC will get a chance at putting four teams in these bowls …
– Cure Bowl vs. Group of Five or Army
– Myrtle Beach Bowl vs. MAC or Sun Belt
– RoofClaim.com Boca Raton Bowl vs. Group of Five or Army
– SERVPRO First Responder Bowl vs. ACC, Big 12, or Pac-12
– TicketSmarter Birmingham Bowl vs. SEC
– Tropical Smoothie Cafe Frisco Bowl vs. Group of Five or Army
– Union Home Mortgage Gasparilla Bowl vs. ACC, Pac-12, or SEC
Also in the affiliation mix going forward …
– Lockheed Martin Armed Forces Bowl (2020, 2022, 2024)"
UH vs Rutgers in Birmingham Bowl
UH vs Coastal Carolina in Myrtle Beach Bowl
UH vs Nevada in Frisco Bowl
UH vs TCU in First Responder Bowl
UH vs Coastal Carolina in Cure Bowl
UH vs UTSA in Frisco Bowl
UH vs Florida Atlantic in Boca Raton Bowl
I don't have time to link, but these are up to date projections from other sources.
Awful. And another reason you gotta get the Hell outa the AAC.
If I never drive to or through Frisco again it will be too soon.
So say that currently OSU, Kansas State, Baylor, Iowa State, Cincinnati and BYU are higher ranked and better. That puts us right back into the AAC bowls.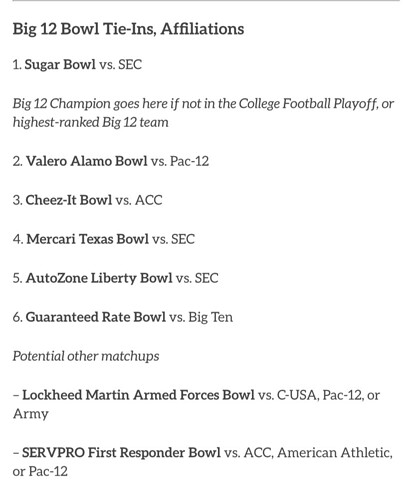 I don't care how highly ranked UTSA or Ulala are.I prefer not to play them in bowls. I like my team on the field with established programs. I just think its better for recruiting. Maybe I'm wrong but I'm tired of upstarts building their programs off playing ours.
What is our Bowl projection after we beat Cincy in The AAC Title Game?
Aha!
That is the burning question, lad. Now isn't it!
Run the ball!
Fiesta Bowl if we're 12-1 at that point
Was thinking it was Fiesta.
Easy trip for Coog Fans. After the game less than a 1 day drive to Vegas.
I live 2 hours from that Stadium. Works for me!
These are like pre-season polls. None of them mean much right now.
When we beat Cincinnati they may still be highest ranked non p5 team. But they would lot be a champion. Coastal Carolina might make it though. Or BYU.
BYU might make a NY6, but not in the G5 slot. They don't have that choice. Hightest rate G5 conference champs only.
Can we please just win one again? We've lost to San Diego State, Fresno State, Army, and Hawaii in our last few bowl games. Ugh.
Sugar bowl would be awesome bc it would be in New Orleans in the dome vs an sec.
Absolutely, they will make the NY6 as an at large and will most likely play the G5 representative…
If BYU runs the table.
Thought I would update to see what has changed as far as predictions.
UH vs Washington St. in First Responder Bowl
UH vs Oregon St. in Holiday Bowl
UH vs Air Force in Hawaii Bowl
UH vs Louisville in Birmingham Bowl
UH vs Mississippi St. in Birmingham Bowl
UH vs Coastal Carolina in Cure Bowl
UH vs UTSA in Frisco Bowl
A couple have stayed the same even with the updated date but most have changed.
In about another two - three weeks we should have a bit more clarity.
The ESPN projections are probably the most important (considering ESPN controls the bowl season).
Oregon State would be a fun match-up…and a fun tie-in to the basketball team's Final Four run.
In two weeks, our projected bowl options seem to be trending upwards. Just keep winning…and things will take care of themselves.