I saw that on Twitter. Very cool. Looks like he got face time with Payton, too.
This dude is going to be special this year. I can't wait.
Here's who he competed against to win that, pretty much a who's who list of college QBs—Brice Young, CJ Stroud, etc.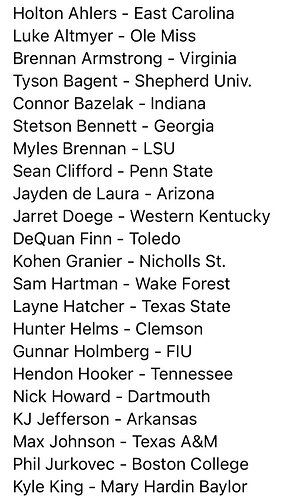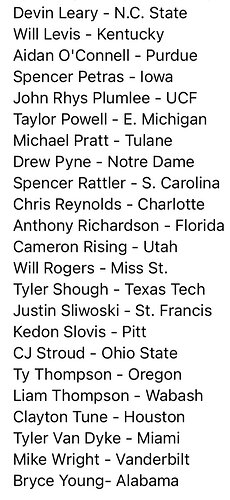 No Cameron Ward or Caleb Williams ???
I have come to notice that the Manning Passing Academy never has a dull moment. Remember these gems:
I recall Johnny Moneybags was there one year, went into town, kept getting drunk and had to be sent home. The Mannings tried to let him save face and said he was sick.
Edit- Even better, Johnny said on a podcast a few years ago that AJ McCarron sabotaged him, unplugged his phone charger so his phone dies and alarm doesn't go off.
I also remember when both O'Korn and Ward were there and this was just after he transferred to Michigan. According to some folks on Coogfans, O'Korn wouldn't even talk to Ward or look in his direction.
Got face time with Archie too
With the weapons that CDH acquired for him this coming season, Tune is going to have a big smile on his face all year.
Gonna be a big yr for Tune. With the stache he no longer looks like babyfaced assassin.
Is it just me, or does Archie now look like Woody Allen? Man im getting old!
Wow…just wow !
Go Coogs !
Happy to hear this! Congratulations Clayton!
GONNA BE A MEMORABLE YEAR!!!
If tune is top 5 this year I don't think we lose a game!
I am just really happy for Clayton. Dude has been through a lot.
First year. D'Eriq tears his meniscus. Clayton has to jump in and burn his redshirt.
Second year. D'Eriq decides to redshirt. Clayton is thrown in again.
Third year. And his first full year as a starter. His offseason and regular season is disrupted by COVID.
The guy is a gamer. Never gave up. Never stopped believing in himself. Even when a lot of us here did. I'm one of the biggest Clayton Tune homers on this board. And I really started having my doubts during the Navy game.
Clayton did not. And neither did Dana.
Ready for this season.
And when Clayton makes a bad throw or a bad read, I will need everyone to just sit down and shut up. Clayton and Dana have the situation handled.