If no tournament run i think he's gone just before UH goes to the Big 12.
Tough decision ahead because coach Hughey is such a great guy but this program has been stagnant for quite awhile now.
No excuses as he has great facilities and a very fertile recruiting area not to mention being able to sell players in playing in a great Big 12 conference.
No excuses.
NIL & Transfer portal, too.
Is Pez strong enough to make a management decision?
If he was the baseball coach would have been re-assigned.
Ronald Hughey, Houston Cougars women's basketball head coach, discusses 2022-23 newcomers De'Myla Brown (5'7" guard); Logyn McNeil (6'3" forward); Kierra Sanderlin (5'7" guard); and Taryn Johnson (5'8" guard).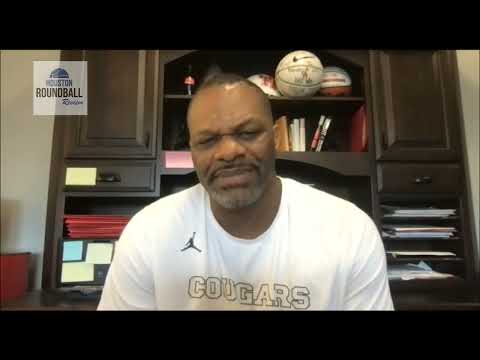 What is wrong with the women's bball team? To put it mildly, it has been a disaster for a while. A coaching change is needed sooner or later. Sooner the better.
Sooner is better. Just go ahead and fire the lo**r we have and name an interim HC. That's my opinion. He should have been fired last season.
They keep losing against teams without heartbeats and no one cares. Sorry but they are very hard to watch
This is me from far away but it seems like UH has sacrifice the other athletic departments not named Football or Basketball and put all their eggs in both those programs. But the football program hasn't been good per se.
The team is terrible.
1-4 says it all but if you look deeper it's even worse.
Louisiana is 1-4 against teams other than UH. Their losses were by a combined 106 points including a 29 point loss to Jackson State!
We are New Mexico's only D1 win.
Portland is 1-3 vs D1 not named UH. They lost by 40 to Stanford. We absolutely choked that game getting outscored 23-10 in last quarter.
We are currently choking away another win. Up 68-65 and at the line and we miss both. Florida drives the court for a layup and we foul. Overtime.

We need to quit extending coach's contract after one good year like we did in football. Hughey got a 4 year extension September of last year
Pez appears to be a clown by all accounts. He tries to use garbage schedules for easy wins to generate propaganda to fool the fans into thinking his programs are successful, and apparently thinks Big 12 recruits will turn his crap coaches into good coaches.
If he would just admit he punked himself and UH by extending CDH and now can't afford to fire anyone until we have a full share of Big 12 money, at least you could respect him. As it is, he sincerely seems worthless.
Took both UF and FSU to OT. Seemed like we're solid. First year coach at SMU is 4-2. They didn't extend their old coach.
Comments from episode 73 of our "Folks Talkin' Sports" livestream show. I love my alma mater; but, we are a long, long way from being a big-time athletics program.

We trail at home to UT Arlington. 40% from FT. Worse from the field.
And the crowd of 200 is split.