Might have to edit thread title tomorrow

Tennessee must be playing well. Nipping at our heels. Big separation between 2 & 3.
2-1 against Top 15 efficiency teams. Saint Mary's ahead of Gonzaga.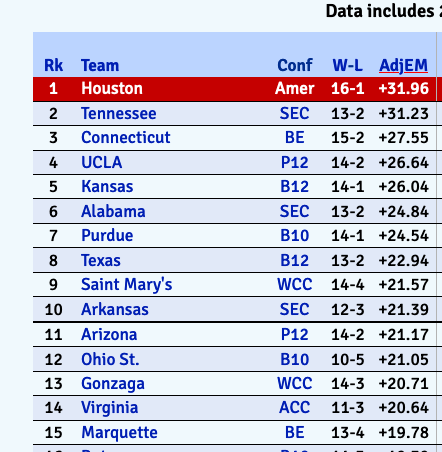 Tennessee blew out South Carolina by 40 on the road
Now South Carolina stinks. But, that'll certainly help your metrics. Tennessee is top 8 good.
All about NCAA tournament success for them
Correct he had a fever for Cincinnati game
Only having Shead avg over 30 mins a game is efficient and speaks to the amount of blowouts.
Is it just me or has Jamal Shead taken a step back from last season? He was so good in the NCAA Tournament last year. I feel like we haven't seen that yet so far from Jamal.
For me he's Showtime Shead until proven otherwise, I think he'll take over when he needs to
Agree he will be there when needed…the big games!
Agree. His best games of the year was against Bama and UVA
There is so many aspects of Jamal's game and responsibility! CKS called him a "table setter" 2 weeks ago! Coach has said several times that Shead can put more practice time into his 3 pt. shot. I think he has a lot of thoughts about Jamal! One thing CKS believes about J. Shead is that he is a "NATURAL LEADER! We will see more of how he develops on & off the court!
I think it only seems that way because we have so many weapons on offense this year. He doesn't need to contribute via PPG, and in fact, it would probably be inefficient to try and force it. He can set things up for Sass, Walker, Tramon, AND Robert's wonderful hook.
Now, when some of the starters are rotated out it makes sense for him to try and score more. I haven't watched THAT closely, so maybe that's when he is getting his 7.5 points per game anyway.
He made a floater vs Cincinnati. He doesn't have to be the guy this year.
Did USF fly in yesterday or are they flying in today?