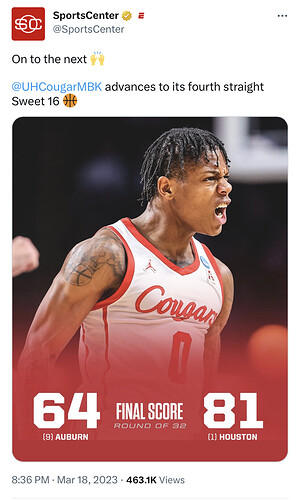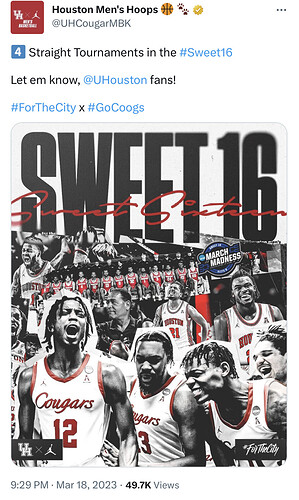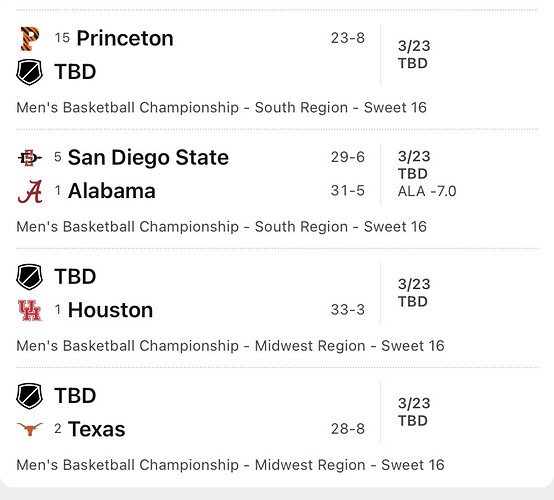 Never lost faith (but I did steam mop the hell outa some floors at the beginning of the second half)
March 24th ? that's a friday, woulda figured they'd keep the thurs/sat games thurs/sat next week. thats an extra day of rest for sasser, shead and everybody else. maybe the tourney is lining up just right for the coogs.

Not scared of either of 'em. Bring 'em on.
We beat Pearl, the only other show cause coach to return along with Sampson. Would love to beat Indiana to taste those tears. Then beat Texas. That would be amazing. Then beat UCLA for those 1968 players and avenge our earlier loss against bama. That is Hollywood right there.
Actually gives the #1 seed a day extra of rest.
Both Miami and Indiana were on the Friday/ Sunday schedule
We earned the extra day of rest after playing Auburn "in Auburn".

going to be a loooooong week…
hope we get a lot of behind the scenes access to hold us over.
Ive been saying there is something about this year as if it a destiny script written by Hollywood. All the UH legends and coming close 6 times and in one game 2 seconds away from an elusive championship. All those legends and a Hall of Fame coach. Now this year we are the #1 in our region just showed our resolve against Auburn. Now there is a path to a Final Four in Houston at NRG with Jim Nantz on the call. Add to it we might have to go through UT and UCLA to win a championship. It like the stars are aligning and how this path for UH has come together is unbelievable.
just beat Indiana / Miami…
(but I 100% feel ya!)
Watching this game, I think I'd rather play Indiana. Miami's really good outside shooting and more loose style of play makes me feel like we could beat or lose to them by 20 depending on which version of them comes out (though I think we beat them 3 or 4 out of every 5 times). Indiana feels more like just a worse version of UH and I think we win most times we play them (and I feel like their guards will have way more trouble staying in front of Sasser and Shead)
It is trending towards Miami…
Miami is an elite eight team, too bad for them they have Houston Cougars in their half of the region.
Change title of thread it's Miami lol
Remember the guy on the left. He said Kansas should have been ahead of Houston as the #2 seed overall and giving them the chance to play in Kansas City. That was his main issue with the selection committee.
What Region is Kansas playing in next weekend?
https://twitter.com/CBSSportsCBB/status/1635049723575894019?s=20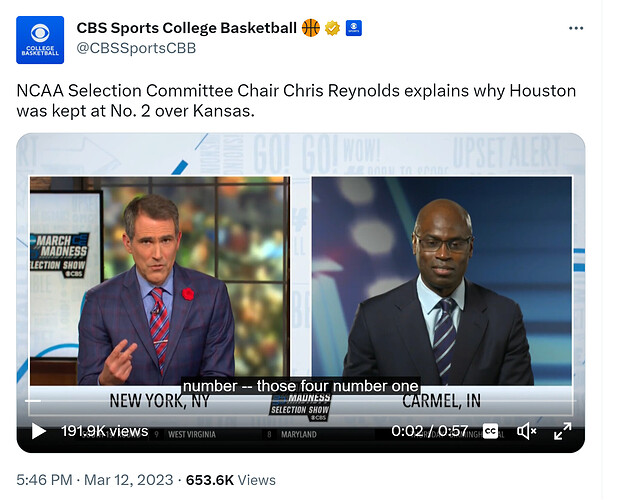 Haha. UAB and North Texas are still playing next weekend, Kansas can watch those games from the comfort of their own living rooms.

I'm kinda glad we don't have to deal with the Sampson/Indiana story line this week…