Houston Cougars 2022 position previews: Linebacker
By: Jimmy Schofield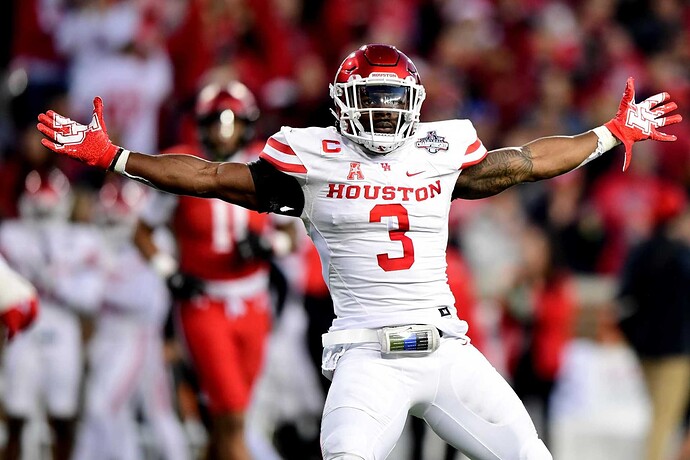 photo courtesy
uhcougars.com
"Our heart and soul"
That is how third year Houston Cougars head coach Dana Holgorsen described his linebacker unit during a Spring ball media conference call last season. That was before a remarkable jump during the 2021 season in just about every defensive statistically category from the previous year. This article looks at the two linebacker spots in first year defensive coordinator Doug Belk 's 4-2-5 scheme.
"Coach Mac (second year linebackers coach Archie McDaniel ) did an awesome job adding size, length and speed," Belk said during spring ball. "There's some depth to that room."
Size, length, speed and depth is exactly how this unit was able to stop the run at such an alarming rate last season (108.2 yards-per-game to rank tenth nationally) versus the previous campaign in which they allowed 167.5 to rank 66th. Being able to fly to the ball also helped them in coverage as they allowed just 194 YPG (19th) though the air in 2021 versus 231 YPG (62nd) in 2020. In total, they allowed just 302.2 total yards last season (TENTH nationally) versus 398.5 in 2020 (55th).
Leading the way will be Donavan Mutin (6-0, 230, Sr.), a three-year starter at the Mike (middle linebacker) spot. According to Belk, Mutin is "our heartbeat and brains, and his intelligence is through the roof." The Spring-Klein Collins product's cat-like quickness and high football IQ allows him to bring ball carriers down at or behind the line of scrimmage. Over 38 career games (28 starts), Mutin has 167 total tackles (99 solo), 12 tackles-for-loss while adding two sacks, two fumble recoveries and an interception.
With Deontay Anderson graduating, the weakside linebacker spot (WLB) will probably be manned by Mannie Nunnery (6-2, 225, RJr.). After playing in just ten games over his first two seasons, mainly as a special teamer, Belk expects the Shadow Creek product to be "an every down player because of his athleticism and toughness." Nunnery is versatile in that he can handle making plays in space, though his heart is in the box as he is a hard striker. For his career, Nunnery has played in 28 games with 35 total tackles, 22 solo, 5 TFL and 2.5 sacks. He also has three blocked kicks as he's dominated on special teams which helped developed him into what's hoped to be a full-time role this season as Belk adds, "If you're a young player you have to be able to play special teams to make the bus (earn playing time). If you make plays on special teams, you give yourself a chance to play more defensively and we play a lot of guys on defense."
What excites me is how glowingly Belk speaks of Nunnery during that post spring conference call, "he's arguably the most talented player on our D. His evolution has been fun to watch. He started out as a safety, moved to our nickel/Sam, played on the edge. Now he's playing the weakside linebacker spot. He was the star of our 3rd down sub packages (last season) and ran that (communications wise). We've blitzed him. We've dropped him into coverage. He's able to play man-to-man. He runs as well as any of our DB's. He's got the most size and athleticism in the linebacker room in his ability to make plays in space."
Backing up Mutin and Nunnery will come from a group which includes returners Malik Robinson (6-0, 220, Jr.) and Jalen Garner (6-1, 210, Fr.). Newcomers from the transfer portal include Jamal Morris (6-2, 215, RJr.) from Oklahoma, Trimarcus Cheeks (6-2, 222, Jr.) from Samford, and Perry Olsen (6-0, 210, Jr.) from Navy. Treylin Payne (6-0, 200) is a traditional freshman out of Converse Judson.
Robinson is an "old school linebacker who's fast and physical and has stepped up this spring," according to Belk. The Snellville, Georgia native played in 14 games (with one start) last season and registered 34 total tackles (15 solo), 1.5 TFL, a sack and fumble recovery. This after the JUCO transfer got off to a slow start in 2020 due mainly to injures, playing in only four games with 9 total tackles (7 solo). Ranked as the #2 outside linebacker among the JUCO ranks by ESPN in 2020, Robinson had 42 total tackles, including two TFL, a forced fumble and a pass breakup three seasons ago in just six games at Fort Scott Community College in Kansas. In 2017, Robinson played at North Carolina where he registered six tackles in 11 games, mainly on special teams. The 3-star commit performed at South Gwinnett High School where he had 96 total tackles his junior season.
As I write these articles from Gainesville, Georgia, my favorite player may be someone who has yet to see a snap in his college career, Jalen Garner. Coach Belk seems to agree with me as he stated about the redshirt freshman during spring ball, "Coach Mac gave him the nickname of 'pup' because he doesn't say much. He's just looking around (on the field) with all the calls and checks. But he's shown flashes (this spring) of why he was so highly touted coming out of Georgia. He can run and can tackle the football. He has a nose for the ball. He's aggressive and loves the game. He's gained a lot of respect from his teammates and his personality is starting to open up a lot more. I expect him to be a contributor this year and many more to come."
If it were not for his size, he would have been offered by major P5 teams and been ranked higher than a 3-star by 247sports. Their loss however will be the Coogs gain as I see Garner as a Matt Adams type of linebacker. Named the Atlanta Journal Constitution 7A Defensive Player of the Year for the 2020 season, Garner produced 142 tackles (28 TFL) and six sacks. He added an incredible 200 tackles (148 solo) his junior season. Garner is also a hard hitter as he forced a combined eight fumbles over his final two seasons, recovering five of them.
Belk also had plenty to say about newcomers Morris, Cheeks and Payne, "he's a converted safety who's jumped in and done a really good job," Belk on Morris. "He almost looks as physical as Mannie (Nunnery). He's got the same type of game; size, speed and very athletic." Coach Belk on Cheeks, "He's been unbelievable (this spring). He's very mature, very intelligent and very well respected by the guys already because of the way he works and communicates." Finally, on the true freshman Payne, "He's been one of the most impressive guys this spring. He's going to be special. He doesn't look like a freshman at all with the way he runs and hits."
Morris played at Oklahoma from 2019 through the 2021 seasons. After redshirting in 2019, the Fort Bend-Bush product played in 19 games over the previous two seasons, registering 8 total tackles. He recorded nearly 200 tackles over his high school career as he was 32nd ranked safety and a 4-star recruit by 247sports. While Morris looks good on paper, Cheeks has produced on the collegiate level as he's coming off a great two seasons at Samford. The Hampton, Georgia native played in 18 games and amassed 96 total tackles (49 solo), 11.5 TFL, 4 sacks, 2 fumble recoveries and an interception. Payne meanwhile was a tackling machine at Converse Judson, amassing an incredible 346 total tackles over the past three seasons. The high 3-star product would have probably been rated higher had he, much like Garner, had more tangibles coaches like, IE size, length and weight. Olsen has the intangibles to be the perfect mike linebacker; he's shown to be a true leader both on and off the field at the Naval academy where he started multiple games at quarterback before transferring to Northeast Oklahoma last season. He had modest results under center as a triple option QB so late last season he played some linebacker where he was All-state his senior year and All-city his junior season in Oklahoma.
The linebackers will again be crucial this season as they must make sure both the defensive line and secondary are on the same page. Stay logged into Coogfans for more position preview articles as we take a look at a veteran laden secondary next week.