How the transfer portal is changing recruiting
By: Jimmy Schofield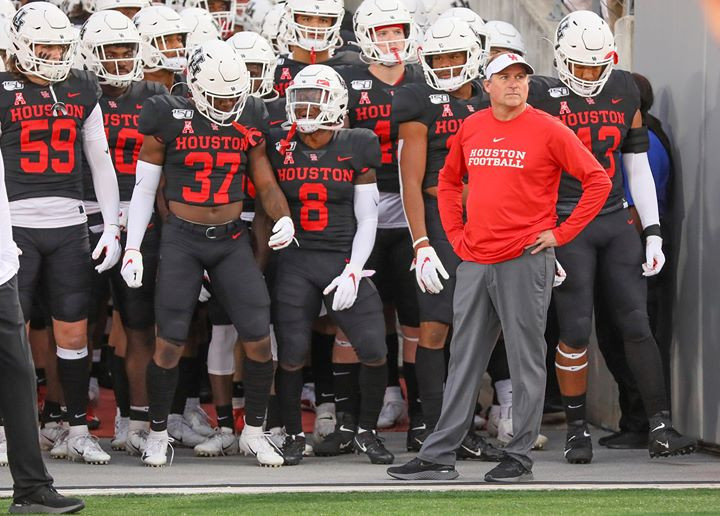 photo courtesy
uhcougars.com
Ed Oliver committed to the Houston Cougars football program on May 21, 2015. It was the first 5-star ranked recruit that committed to a non-Power-5 program since at least 2006. The Cougars finished the 2016 recruiting cycle at 36th on 247sports final college football recruiting rankings, the highest in program history since recruiting rankings started in the early 2000s. Since then, and two head coaches later, they have finished at 69th, 73rd, 73rd, 72nd and 84th over the past five recruiting cycles.
"It's a whole 'nother ball game."
That is what current UH head football coach Dana Holgorsen said (20-minute mark) about recruiting in the present, regarding taking kids out of the transfer portal. The transfer portal was created by the NCAA in October of 2018. Players do not need to ask permission from their coaching staff in order to transfer. They merely need to request that compliance enter their name. Usually, it takes 24-48 hours for a player to appear following their request. Schools are free to contact a player without restriction once their name appears in the portal. Nearly 2,000 kids entered the portal that first calendar year.
"We started about six or seven years ago (at West Virginia where he was head coach from 2012 to 2018), at the rate of about 50/50 (recruiting high school to non-high school players) but a lot of those kids were JUCO (junior college) kids. Now it is not as much JUCO kids as it is about finding guys with experience (via the portal). The three Texas Tech kids (Ta'Zhawn Henry, KeSean Carter and Alex Hogan), they all logged good reps at Tech so we knew what they could do at the college level.
"Recruiting is a bit of a crap shoot when it comes to high school kids."
Holgorsen continues, "Most high school kids that we get are going to be developmental players and sometimes they don't develop at the rate we want them to. Clearly there are difference makers, the Ed Oliver's that we are not going to get very often. But hopefully over the course of time you get them (high school signees) to where we want them to be, eventually."
This is also where Holgorsen, and many head coaches, realize that time and patience is not always on their side, regarding money donating alumni and their bosses, namely athletic directors and university Presidents. "The winning is defined at University of Houston as 10 and 2," UH President Renu Khator told faculty and staff at the annual holiday party at her home in 2016 after hiring Major Applewhite. "We'll fire coaches at 8 and 4." Applewhite was subsequently fired after winning 15 combined games in his two full seasons in 2017 and 2018 (8 in 2017 and 7 in 2018). Holgorsen has won only 7 games in his two seasons, though last year could be excused due to the inconsistency of practice and actual games because of the Covid-19 pandemic.
"This is always a what-have-you-done for me lately type deal."
Holgorsen realizes his program is not "carrying its weight" in regard to winning, and the portal will help in that regard. "I'm well aware of where we are at and what we need to do and I think we are getting there," Holgorsen said of rebuilding the program. He is just doing it the new way as he and his staff are taking a larger number of transfers than many programs, 24 transfers that played ball on the FBS level prior to their enrollment at UH. Of those 24, 9 have seen consistent playing time over the past two seasons with another 6 set to see the field this upcoming year. June 30 is the last day this year for players to declare which team they'll be playing for as they won't be allowed to play for another team for the 2021 season if they transfer after the 30th.
"We're getting guys that have proven snaps on the D1 level which gives you (the coaching staff) a better chance to get what you want out of them the next year (namely productivity on the playing field)."
"It's changed a lot."
Holgorsen says of recruiting, "Fifty-percent of it is now through the portal it seems which hurts the JUCO and high school kids. That's where I've been (at West Virginia) but it was a lot more JUCO's than high school kids. I see us taking maybe 9 kids out of high school this cycle. The rest will be via transfers.
"Sixty-six percent transfers and I don't see that changing."
Holgorsen says of the future of recruiting, "I think you're going to get two-thirds of your guys out of the portal or JC and take about a handful of high school kids a year."
Another change Holgorsen sees as permanent are virtual visits, which can really help cash strapped programs like Houston. The NCAA will be allowing recruits to visit on campus for 'official visits' (paid for by the school) on June 1. But Holgorsen does not see much changing how he and his staff recruits, "We'll bring back a little of how we used to do it (watching kids via summer camps), a little of the transfer portal and virtual visits."
This is an interesting time in college football regarding how coaches build their programs (with over 1,000 players currently in the portal). 'Group of 5' programs like Houston can both benefit and be hurt by the transfer portal. While the big time programs look to pick off players they want to help ensure depth at certain positions (Alabama recently welcomed a former 5-star linebacker and wide receiver), smaller programs must hope to hold on to players that were not highly recruited but have become good college football players. Houston seems to have bolstered its roster from a talent perspective, if not a winning-percentage perspective. In the end, whether the strategy pans out or not, it looks like Holgorsen and his staff are going 'all-in' on the portal.