Was listening to 610 earlier and Andre talked about Taylor tweaking his hamstring yesterday. He said when he would have a hamstring issue it was usually two weeks minimum before he could think about pushing it.
About 45 years ago playing football with my sons I pulled a hammy. I could hear it when it tore…like a twing from a bow string. I was in pain and limping for at least 3 weeks.
Navy is a bit of a sh1t show at the moment. The AD fired the OC after their game 2 loss, then the HC gets him reinstated later in the week. Meanwhile another offensive assistant left the team last week due to his "religious convictions" regarding the academy's COVID policy. They've scored one TD this season. I think that anything less than a resounding victory will be a bit disappointing.
Will be funny if Holgorsen rolls off six smashing, lopsided shutouts in a row.
And everyone goes back to posting benign questions about formations and cursing USA Today for disrespecting us for not being in the Top Ten.
I know that's what I'll do.
I can't ever count Navy out. They play hard and seem to play better against us, for some reason.
We'll be getting every non-B12 AAC team's best shot this year.
Tune needs to sit out and heal up.
Coogs-- 42
Navy — 14
Edit: would say Navy - 7, but Coogs always get suckered in for at least one of their play action passes for 50 yds.
YEP-maybe for a few weeks…
Frankly, I worry for our DLINE when we play Knavy. AAMOF I usually email their OLINE coaches to remind them we haven't forgotten Ed Oliver. Those emails aren't nice. I would encourage all UH folks to do the same.
Navy typically decimates our depth. We usually have a ton of injuries after playing them. Specifically on OL and DL. I'd say rest our starting QB and strategically pull our starting defense once we go up by 20 or so. I want Mutin , Hypolite, Marcus healthy and primed for Tulsa and Tulane.
Recall we were up 35-0 against Grambling, yet we had Marcus out there returning kicks.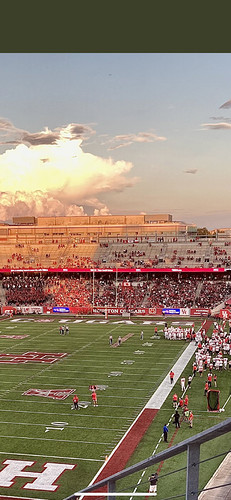 This is the picture I wanted to post when we were talking about attendance. The student section was filled up a bit. Especially for grambling state. The problem is the upper decks make it look so bad. I think we will have a lot more people for navy considering people actually know who that is, and it's our first conference game
Thank you for starting this thread so we can talk about actual game stuff again. This is the worst Navy team I've ever seen and our defense is good this year. We really shouldn't have anything to worry about. Air Force held Navy to 68 total yards, and just 36 on the ground. That was an average of 1.1 ypc. One week later, Air Force gave up 49 points and 628 total yards to Utah State, so I don't think the Air Force defense is the reincarnation of the '85 Bears. I agree with @Jesse22 that we always seem to give up some big passing play to Navy, so I think we hold them to 3, just like Air Force did. I'll go with 31 - 3, Coogs.
I don't think we give up more than 10 points. I only say 10 Bc our QB might spot them 7 lol, but I'm thinking 35-6 seems about right. Dell and Alton are getting better and better and really helping out our offense. Just don't turn the ball over
Last chance to see the Cougars at TDECU until October 23rd. Maybe they will return 5-1 with big wins over Tulsa and Tulane before their 10-day break.
Could you repeat that last sentence for those in the back…?
We get the best shot from every AAC team we play so nothing different there.