Poor Hartford. Won a game and still last place. No respect.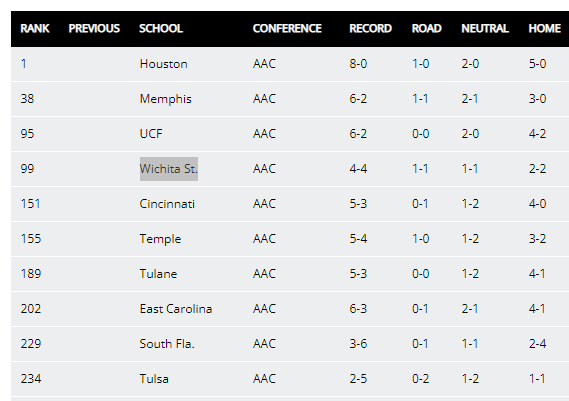 Kent State is 24. Wow. Saint Mary's is 16. Oregon 91.
Oral Roberts is 70.
Alabama is 8. Virginia is 9.
Memphis is 38. Only 4 top 100 teams in AAC. And 2 of those are in the mid 90s. Yikes.
Biggest surprise to me is Kent State and Saint Mary's. Making us 2-0 in Q1 already.
But we haven't played anybody… /s

Looking forward to facing 8-Alabama and 9-Virginia.
You left off 282 SMU. lol
Everyone talking about Texas. NET has our SOS as 130 spots higher than UT's, as of today.
And we haven't played Bama or UVA yet.
Good thing we beat Saint Marys and Oregon (they only need to jump 16 spots to be Q1)
Because this conference got even worse compared to last year lol
Tulane at 189 is grounds for dismissal for Ron Hunter.
Cincinnati at 151 is terrible too.
Temple at 155.
Kent State has a big opportunity tonight.
Northern Colorado 222
St Joes 308
Oral Roberts 70
TSU 258
Oregon 91
Kent St 24
Norfolk 240
St Marys 16
North Florida 270
Bama 8
NC A&T 292
UVA 9
McNeese 355
That's what I've posted about several times. What was humorous was the very posters that minimized the strength of our schedule were the ones that were saying that UT should be ranked above us
You got a site/link for looking at NET SOS? That would be fun to look at.
If we played them on the road instead at home they would have a pretty good shot as counting as a Q1 at the end of the year tbh, even if they did beat the Zags I think the rest of the conference could drag down their rating as the next highest MAC team is 134
Hopefully Oregon gets healthy and rise up the ranks then we get at least 1 more Q1 win between Bama/UVA
Also if Memphis keep winning, we have a possibility of 2 more Quad 1 wins.
And wouldd be nice if Oregon, UCF and Wichita St can get their ish together just a little bit.
Louisville ranked 3rd to last in the entire country, oh my!