Deion is one helluva recruiter already.
That one is tough to comprehend. Choose a I-FCS school from one of the weaker I-FCS conferences over a SEC program?
Craziness!!!
It helps that Warren is a cornerback and Deion is one of the best corners to play the game.
Word has it he didn't qualify academically for Georgia.
I didn't even think of that
Given that I-FCS is still NCAA, I'm not sure how that would make a difference.
Don't they have to make it through the same clearinghouse?
Seems to me that if academics were the issue, then he'd be going JUCO.
Georgia's apparently up against the scholarship cap and couldn't afford to take a risk on a guy that may not get cleared. Jackson State may be more willing to take that risk. Totally still possible he never makes it to campus.
EDIT: Also, he's a JuCo recruit, so going that route again probably wasn't an option (I don't know if he has any NJCAA eligibility left)
That was my initial thought when I saw this.
Recruit'n at Jacky State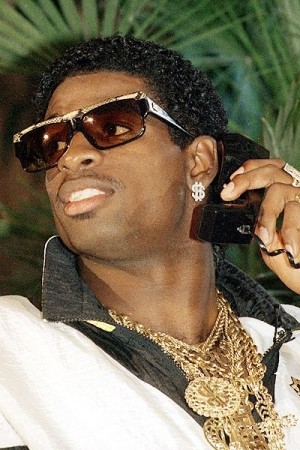 But can he coach? May be the Penny Hardaway of football.
Like we know…it's all about the Assisstants.
I do not see Jackson state doing anything, plus the swac refuses to play FCS schools like North Dakota state, south dakota state, and so on. I have not respect for their programs just like the Ivy league.
Wait a minute , they are willing to play D1 teams. You must respect that. SWAC will play D1 teams. Maybe they prefer to play top national programs and not other FCS. Can't get mad at that!
SWAC schools take on FBS opponents all the time. I think Deion wont be afraid to play anybody. Especially if he keeps recruiting like this
If he couldn't get into Georgia and they bend admissions for athletes that says something and it was during a pandemic when schools have damn near giving grades away
SWAC parents are all over - it could happen more than often if things began to shift or they began to push for more but it's harder in football.
Now if Strahan ever become involved more with TSU consistently than that's something to watch out for as that's probably the only person who can match Deion in terms of name recognition and value. Plus he's tied in to more mainstream things.
Does the SWAC qualify for the FCS playoffs? If so, that should be one of his main goals. Win the FCS Championship.
They choose to opt out of it to play the MEAC in the celebration bowl.
SWAC schools stopped participating n the FCS playoffs due to not being able to compete. MEAC schools fare slightly better. North Carolina A&T opted for the FCS Playoffs a few years ago when they beat East Carolina
The MEAC has dwindled down to 6 teams. Florida A&M and Bethune-Cookman are moving to the SWAC in 2021 and North Carolina A&T is moving to the Big South in 2021.
From MEAC's Wikipedia site:
It seems like the SWAC has gotten stronger adding those 2 schools and with Deion flipping P5 recruits and signing P5 transfers to Jackson State, it's a conference to watch. I wonder if Deion would rather compete in the FCS playoffs.
Jackson State has a better recruiting class than we do.
They used to play in the Heritage Bowl Game.
My guess is, like a lot of FCS programs, they play FBS schools for the payday. It's unfortunate that the current system requires that, but it's not just SWAC FCS-programs that play FBS teams for the payday.