Have you guys and gals check out the Phi Slama Jama retro collection on Fanatics?
Quaint. But why would anyone living in the present want it? Maybe to get the teams autographs on it?
Why wouldn't they want it?
I was in middle school during this time and not even a UH fan at the time and I just bought one. It's history! Something most people in Houston have a problem with respecting, since they all want shiny new things …
Well, I live in the present. I was in my early 20's during PSJ, and loved it but it's time to move on. Yeah it's fun to reminisce but it's like buying a shirt today to celebrate a 1970's Cotton Bowl win.
And, PSJ wasn't anything at all like our Sampson era teams. Just by marketing the gear it sends the message that our current team has no identity so here's the a team from the past that does. Dunks make the highlight reals but we need gear celebrating today's UH. Maybe a silk-screen of an Iron Maiden with the caption, "Welcome to Cougar defense!" or something similar.
I have no problems celebrating our past. We will have to agree to disagree on that one.
I do agree that we need to celebrate the current team's identity. Time for you creative people out their to give this team a nickname.
That's a new one. Never heard somebody say wearing throwback gear could be an insult to the current team. I think its great there are more items like this available to celebrate the history of the program.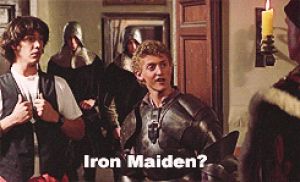 I will throw out "Culture Club" as my nickname. Yeah I know it is lame, but this team is all about culture.
I celebrate the past, my issue is marketing for a nearly 40-year old legacy when we have a great legacy right now and it hasn't even peaked yet.
Phi Graba Rebounda
Not sure how well that will market.
I like the red tie t-shirts but no red ties this year. Sad. We should wear them anyway!
That's a lot of Tubmans for t-shirts…
Thanks! just got my dad a Phi Slamma shirt for his bday coming up in march.
he was there during the glory days!
We should have been doing this for 35 years. I got my PSJ shirt today!
I was there in the day too.
No need to be offended. No need to wear those shirts at this particular point in time either.
Our marketing folks should be original and push something new.
"COVID COUGARS"
"Shasta Shooters" (with a syringe going a basketball)
Ok, those were pretty, pretty, bad.
I will leave it to those that do it for a living to come up with it.
And yet Guinness decided a 1970s Cotton Bowl was worth putting in a very heavily run commercial
Lol That some find a way to put negativity in any conversation