Wow, FIU and USF looks stupid now.
My man's got the swag with Best In Texas across his face.
Mods please move off of realignment board
Tank about to start collecting awards… Hell of a season!
Terrific player and a very solid young man. One of my favorite players since big Ed.
Dell deserves the accolades. I hope he gets a shot at the next level and if he does he will do well there too. .
Another former 2 star player out of HS that has really done well.
Tank had a big day.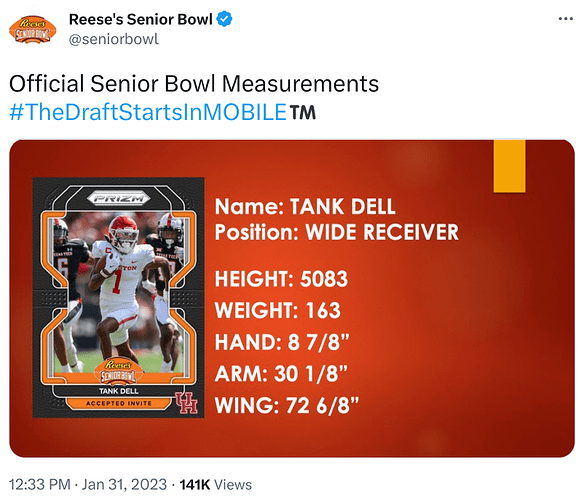 https://twitter.com/seniorbowl/status/1620475479320059904
"Dell found massive success both inside and outside of the numbers against the American team corners"
"The biggest winner, relative to expectations, was Houston's Nathaniel "Tank" Dell "
"Houston's Nathaniel "Tank" Dell has incredible stop/start acceleration"
"Dell may have been the best out of all the receivers on Day 1."
4th round (before today) in this long look.
That was pretty cool lol
It reminds me of that one play against Cincy in the AAC Chamionship Game where he made like 5-6 Cincy defenders miss…most of those guys were/are NFL-caliber types.