If there's a complaint by multiple people it's a problem. Imho
Then this site has a debbie downer and a nancy negative problem because there are a lot of posters that are complaining about the constant whiners.
Yea there are some issues, but the stadium itself is solid. Sure we could finish those suites, but it's not getting in the way of the experience. Nor the unpainted concrete.
Is that what's going on here?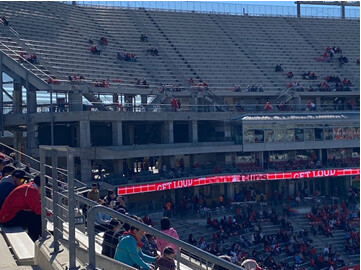 Agree. Our stadium is so gray. It looks like a prison yard. Get some more color in there.
Yep. It's all a matter of perspective.
The bathrooms are ok.Your there for 2 mins.
The real thing we need is an escalator to that top deck so people won't mind buying tics there.
Just an escalator then we're good. An elevator won't work bc of wait times and they get old and have issues. The gray walls are ok just maybe use a crimson paint for red on future tiles so it doesn't fade as much. Crimson like our football helmets.
Suites are good as they bring in more revenue than simple seating for the space. Also guessing they are better for bringing clients to a game for businesses in the area. Easier to talk shop and stuff in an air conditioned suite than open seating somewhere surrounded by other people.
Also, I have no issues with the bathrooms, the small changes I would make are really irrelevant.
Mentioned earlier, but I think some color on some of those cement panels throughout the stadium interior would be nice. That was discussed in another thread a few months ago.
I mean, they're sitting down though right?
We need more cans in the seats and fewer seats in the cans.
The current seats and ticket holders on the suite deck in the open area will be moved to the media level above it. The current open areas on both ends of the suite level will have the new suites by next football season.
They will eventually- maybe not brick but the mesh was a cheap material so we could get the stadium built.
They will constantly be upgrading the stadium for as long as it stands.
Good point, No climate control in the restrooms is aging them horrifically. They are already looking really rundown. Will be Robertson levels soon at this rate.
Have not noticed that all. They look fine to me.
And concession stands on second deck! Elevator on visiting side sounds like it is gasping for air
At least there's doors on stalls #rice
I'm there 2 minutes to pee. I don't care if it has AC or what the urinals look like.
I'm ok with them where they are if we had escalators.
And that was after upgrades.