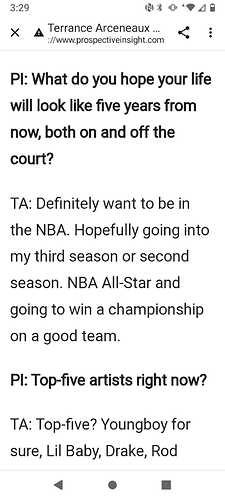 This is very intriguing from a long interview Terrance had the other day.
Wants to play his first year in the NBA the Fall of 2025 or 2026.
That means the goal is 3 to 4 years at Houston.
This is great news for us on where his head is, would love for us to keep having guys play 3-4 years in college like Dotson , Grimes, Brooks, Sasser (next year).
The teams with more veterans are more developed and go deep in the tournament.
And most importantly the success of our guys raising the bar for us in NBA.
Sasser, Mark (most likely), and Walker will be gone after this year.
Having Jojo Tugler, Jamal Shead, Jwan Roberts, Ramon Walker, Emmanuel Sharp, Javier Francis, K Jefferson, and Terrence Arceneaux is a great core so far for our first year in the BIG 12 in 2023