Note to self: next time I'm in a bar and wanna shock the ladies…take the squat pics from 25 degrees
They look like the size of typical 45 lb plates but when I went back and looked at Sharp's lower body it doesn't look like he pushing that much weight.
A traditional bar is 45 and not sure that one is
He just posted a video… it KG guys.
And he's doing 120 KG.
Cant wait to get Arceneaux & Jarace with Bishop.
It is terrific seeing Bishop getting some accolades. The contributions of Strength and Conditioning professionals had long been overlooked until about 40 years ago. Now there is NO big time sports program without a S&C professional. UH will be smart to keep Bishop happy and with a fat budget.
Remember when we had Art running the weight program and resisted Maggard when he insisted in hiring a S&C guy?
In basketball we had Michael Young overseeing the S&C program.
We have come a long way!
A DT. Started at Air Force Prep.
Tweet from a Sr NBA Draft Analyst.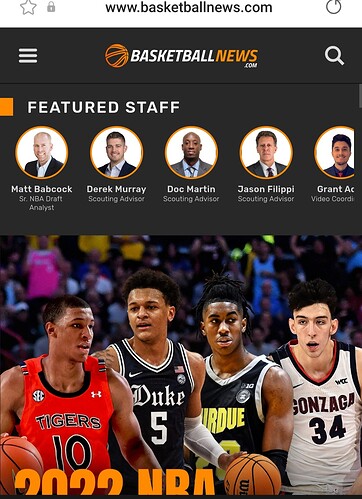 Appears to be a pretty recent video of Sharp
Maybe Im just this broken as a UH fan, but I just saw his name as the headline and immediately thought oh no. Hes taking another job
That is an insane workout. And it looks fun. We gotta lock Bishop up long-term. He's pure gold.
I like Emmanuel's energy. Very possible he could be the first guard off the bench
Shead, Sasser, Mark - starting
At this point I wouldn't be surprised at any of them being the first guard off bench

can make an argument for each one we are just stacked with depth
Our training program must be world class.
Total kudos to Coach Sampson for hiring Bishop and creating a killer work ethic amongst his players.