Bruh just raise money don't make more loge boxes unless the 60k capacity can happen, a bigger and nicer screen is put up, and they modify the lights to be LED so light shows can happen.
Okay the screen is happening
Additional luxury seating is necessary if you want more 7 figure donors. The amount of suites are small. Big time donors want luxury boxes. The ones at Baylor are really neat. Plus to Pez's point it adds revenue.
True. UTs new suites are one mil a season
Imagine what the stadium would cost now. Glad we got that done. They will get this done too
It took TCU 5 years to receive a full share, we a full share in 2. In addition , the first year at 50% will still pay us more than we would get in the american. We will be better off in 23-24 than we are in 22-23.
Well it's not going to look like that nice facility in the renderings. We're going with less.
I have a friend that has access to one of these UT suites……been twice with him.
They are nice….but not Caesar's suite nice.
We need to aim high…once you build it you do not want to have regrets. Stadium integration seems like a must have to unlock value.
UH's multimillion-dollar options for football headquarters in focus
Joseph Duarte
ON THE COUGARS
Courtesy University of Houston athletics
This rendering depicts a view from the exterior promenade level of UH's proposed football operations facility.
As the University of Houston gets closer to its move to the Big 12, a different type of shuffling is being done on a patch of concrete next door to TDECU Stadium.
The objective: how to get the most bang for the buck with the football operations building.
The post-pandemic rise in supply chain costs has significantly increased the expense of the project, vice president for athletics Chris Pezman said, but plans remain on track to begin construction this summer.
"We're absolutely going to do the facility with football," Pezman said during a recent 90-minute interview with the Houston Chronicle on a wide range of topics.
Depending on the final design plan — and more importantly, location — UH's new football headquarters will cost between $90 and $140 million. The original cost was expected to be about $75 million.
The final price tag will depend on the exact location of the facility. That decision is expected to be finalized within the next few weeks, Pezman said.
"We're still designing and fundraising," he said. "It's not holding anything up. We're not losing time. It's just where are we putting this thing and how do we maximize it."
Pezman said "right now" the school has funding for a $90 million facility to be located behind the west side of TDECU Stadium. Because of construction increases, the $90 million price tag would involve a slightly slimmed-down facility from 130,000 to 105,000 square feet.
The football operations facility will include a dining hall, locker rooms, players' lounge, sports medicine, strength and conditioning areas, and coaches' offices. Construction is scheduled to start in June and be completed by January 2025.
"We had every bell and whistle in the (130,000-square-foot design), so there was enough that we could move things around and make it more efficient and cut square footage and be more cost effective," Pezman said.
However, the lower-cost facility comes with one major drawback: decreased visibility. As schools aim to show off new facilities for recruits and national TV audiences, the proposed $90 million facility would be a 2½-story "box that sits behind the end zone in the parking area and nobody would see it," Pezman said.
"I can't take $90 million and put it behind the (stadium) and not see it. Nobody knows it's there," he added. "You'd know it's there, but you really wouldn't know it's there."
If funding is available, the one option that appears to be the top choice is a $140 million facility that would include a redesigned second deck behind the west end zone. A portion of the second deck, where the scoreboard currently resides, would be taken out and replaced with club and loge seats and suites. A larger scoreboard, likely three times the size of the current one, would be situated above and stretch from corner to corner.
"That's what we are focused on," Pezman said.
To build a $140 million facility would add about $3.5 million in debt services, based on the currently level of donations, each year, Pezman said. The addition of premium seating would provide a revenue producer to help offset some of the extra cost.
"We're growing our budget revenue," Pezman said. "We're growing our expenses. But at the same time, we're walking down our subsidy. If I take $3.5 million of that delta, that's $3.5 million less that I can reinvest into our sports.
"It's how can we best manage the debt service payments as we (look down the road). I'm trying to make sure we don't put ourselves in position financially that we are less healthy."
Once the football operations facility is completed, Pezman said the next decision is what to do with space, approximately 5,000 square feet, that is currently used for the home locker room at TDECU Stadium.
As previously announced, school officials are also discussing plans for how to repurpose the Athletics-Alumni Center for UH's Olympic sports once the football program relocates. joseph.duarte@chron.comtwitter.com/joseph_duarte
I would suggest going back to a really plush Alumni welcome center. We really don't have an inviting atmosphere for visiting Alumni to sit down and meet others .
What a total cluster the design of that side of campus has turned out to be.
Summarizing only a few of the missteps
The cutout in the corner of the stadium. Was meant specifically to give a view or downtown that is now blocked by the building.
Halving, if not more, the rv lot.
Those two alone could have been resolved with a better master plan
Originally entry into the red and platinum lots was through Scott. That was finally corrected to provide better traffic flow since the train kept cutting off entry and backing up traffic. Terrible initial design of that entrance.
No replacement for the tailgate pavilions that could have been incorporated into the design of the parking lots but wasn't.
Oof there's plenty more that have been documented. At least they made a stopgap for the lack of water fountains.
Uh oh. Construction around TDECU for UH's first season in the B12. Parking nightmares for football games. I guess I'll leave Friday morning to avoid the Saturday gameday traffic.
Why do i get the feeling our ticket prices are about to up?
i wished they would build the operations building on the Cullen side endzone, on top of the ticket office, with top office with a panoramic view of endzone, sorta like this, im sure its cost, but i feel lots of schools are doing this
This would make our look stadium bigger too, especially more people drive past Cullen when visiting UH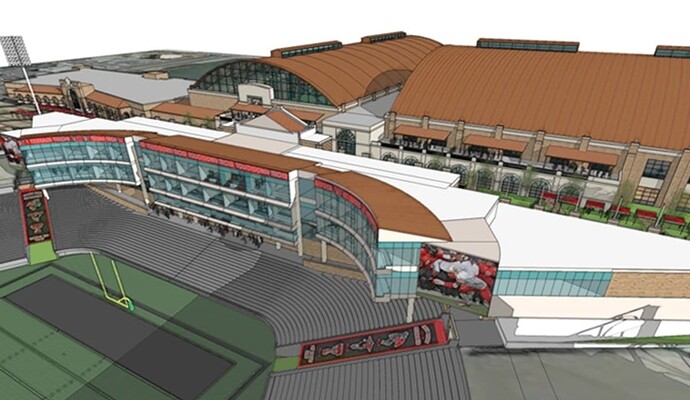 Are they including a tailgating area in the plans?
They never carried that over from the Robertson days
I like this, as long as it does not look like the South end zone expansion at DKR Stadium at UT. I've been to games there and my UT friends say it looks like a vagina in the end zone.
So, I ask again, how many additional seats will this add once they close off that end zone?
Will we be up to, let's say, 42K capacity?